Honda Fit: Second generation (2007-2022)
Second generation (2007-2022)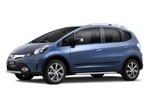 The second generation Fit debuted on 17 October 2007 at the Tokyo Motor Show. The vehicle offers a longer wheelbase than its predecessor and is wider and longer overall. Overall height is unchanged, while interior height increased by .3 in. Multi-mode seating and cargo configurations are retained, with redesigned headrests enabling more convenient folding of the rear seats.
See also:
Fuse Access Panel Removal/Installation
NOTE: Take care not to scratch the dashboard or its related parts. Do not pry on the panel surface with any tools. Pull the fuse access panel (A) back by hand to release the ...
Connecting Rod and Crankshaft End Play Inspection
Remove the oil pump. Measure the connecting rod end play with a feeler gauge (A) between the connecting rod (B) and the crankshaft (C). Connecting Rod End Play ...
Rocker Arm and Shaft Disassembly/Reassembly
NOTE: Identify each part as it is removed so that each item can be reinstalled in its original location. Inspect the rocker arm shaft and the rocker arms. If reused, the ...