Honda Fit: First generation (2001–2008)
First generation (2001–2008)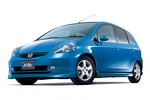 The Honda Fit debuted in June 2001 in Japan and immediately became a big hit. By December 2001, it had outsold the Toyota Corolla, and ranked first in sales for nine out of twelve months in 2002. It subsequently was introduced in Europe (early 2002), Australia (late 2002), South America (early 2003), South Africa and South-East Asia (2003), China (Sep 2004), and Mexico (late 2005).
See also:
Installation (Part -3)
Remove the vinyl tape from the connectors. Connect the EPS motor angle sensor 8P connector (A), torque sensor 6P connector (B) to the steering gearbox. ...
Resuming Your Trip
Stop your vehicle en route (e.g., to rest, stop for gas, etc.), and then continue on your route. If you did not complete your route, the Continue Trip screen is displayed when you restart you ...
M/T Differential Backlash Inspection (M/T)
Place the differential assembly on V-blocks (A), and install the right driveshaft (B) and the left driveshaft (C). Measure the backlash of both pinion gears (D) with a dial in ...