Honda Fit: First generation (2001–2008)
First generation (2001–2008)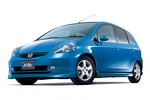 The Honda Fit debuted in June 2001 in Japan and immediately became a big hit. By December 2001, it had outsold the Toyota Corolla, and ranked first in sales for nine out of twelve months in 2002. It subsequently was introduced in Europe (early 2002), Australia (late 2002), South America (early 2003), South Africa and South-East Asia (2003), China (Sep 2004), and Mexico (late 2005).
See also:
Inspection
Install the nut on the damper shaft end, and set the socket wrench and T-handle on the nut. Compress the damper assembly by hand, and check for smooth operation through a full ...
Using the Phonebook
PHONE button ► Phonebook 1. Select a name.  Select alphabetical tabs to display the entries in the group. 2. Select a number. 3. Select Call to begin dialing. Up to three icons ...
A/C System Evacuation (With A/C)
Special Tools Required Compact Electronic Vacuum Gauge Robinair ROB14777, commercially available *This tool is available through the Honda Tool and Equipment Program; call 888-424-6857 ...