Honda Fit: Pairing a Phone

PHONE button
When no Bluetooth-compatible phone has ever been paired to the system, the following screen appears: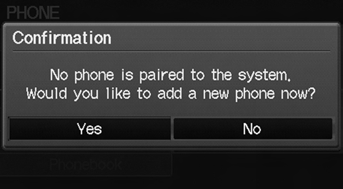 1. Select Yes.
2. Put your cell phone in "Discovery" or "Search" mode.
3. Select OK.
 The system begins to search for your phone.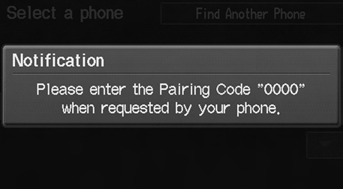 4. Select your phone in the list.
► Select Find Another Phone if your phone is not found.
► Refer to your phone manual for instructions on searching for a Bluetooth® device.
5. Enter the 4-digit pairing code on your phone when prompted to complete the pairing process.
Your Bluetooth-compatible phone must be paired to HFL before you can make and receive hands-free calls.
The maximum range between your phone and vehicle is about 30 feet (10 meters).
Phone Pairing Tips
• You cannot pair your phone while the vehicle is moving.

• Your phone must be in discovery or search mode when pairing the phone. Refer to your phone's manual.

• Up to six phones can be paired.
• Your phone's battery may drain faster when it is paired to HFL.
• If your phone is not ready for pairing or not found by the system within three minutes, the system will time out and returns to idle.
• The default pairing code "0000" is used unless you change the setting.
Pairing Code

You can change the pairing code setting.
Delete a Phone
You can delete the paired phone.
See also:
Ignition Switch Replacement
NOTE: SRS components are located in the area. Review the SRS component locations, and precautions and procedures before doing repairs or servicing. Do the battery terminal di ...
What to Do If
The ignition switch does not turn from to . Why? ● The steering wheel may be locked. ● Try to turn the steering wheel left and right while turning the ignition key. The i ...
Valve Body and ATF Strainer Removal (A/T)
Remove the ATF feed pipe (A) from the regulator valve body (B). Remove the ATF feed pipes (C) (D) from the servo body (E). Remove the ATF strainer (F) (two bolts). ...