Honda Fit: Changing the Currently Paired Phone

PHONE button
► Phone Setup ► Add/Select a phone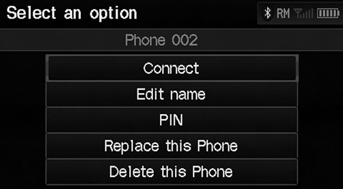 1. Select List under Paired Phone List.
2. Select a phone to connect.
3. Select Connect.
► HFL disconnects the linked phone and starts connecting to another paired phone.
If no other phones are found or paired when trying to switch to another phone, HFL will inform you that the original phone is linked again.
See also:
Torque Converter Housing Mainshaft Bearing and Oil Seal Replacement (A/T)
Special Tools Required Adjustable Bearing Puller, 25пјЌ40 mm 07736-A01000B Driver Handle, 15 x 135L 07749-0010000 Bearing Driver Attachment, 62 x 68 mm 07746-0010500 Bearing Driver Attachme ...
Accessories and Modifications
Modifying your vehicle, or installing some non-Honda accessories, can make it unsafe. Before you make any modifications or add any accessories, be sure to read the following information. Accessor ...
Alternator Brush Inspection
Measure the length of both brushes (A) with a vernier caliper: If either brush is shorter than the service limit, replace the brushes, go to step 20. If brush length ...