Honda Fit: Calculating the Route
This section describes how to calculate your route.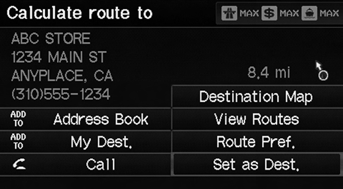 1. Select Set as Dest.
► The system calculates and displays the route line on the map screen.
The following items are available:
• Route Pref.: Changes the route preferences (calculating method).
• View Routes: Displays three different routes.
• Destination Map: Displays a map of the destination.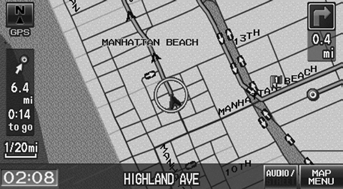 2. Follow the route guidance to your destination.
► The system provides you with pop-up messages if your route passes through unverified areas, avoid areas, or areas with traffic restrictions.
The current route preferences are displayed as icons on the top right of the Calculate Route screen. The straight line distance (as the crow flies, not driving distance) and direction to the destination are shown.
You cannot use voice commands while the system is calculating the route.
Add to Address Book
You can add the destination address to the address book.
Add to My Dest.
You can add the address to the destination list.
Call

You can place a telephone call to the destination phone number.
See also:
Side Impact Sensor (Second) Replacement
Removal Do the battery terminal disconnection procedure, then wait at least 3 minutes before starting work. Remove the cargo area side trim. Disconnect the side ...
Jump Starting
Although this seems like a simple procedure, you should take several precautions. A battery can explode if you do not follow the correct procedure, seriously injuring anyone nearby. Keep all spa ...
Rear Door Panel Removal/Installation
Special Tools Required KTC Trim Tool Set SOJATP2014 Trim Pad Remover Snap-on A 177A or equivalent, commercially available *Available through the Honda Tool and Equipment Program; call 888-4 ...