Honda Fit: Key Types and Functions
This vehicle comes with the following keys:
All of the keys have an immobilizer system. The immobilizer system helps to protect against vehicle theft.
The keys contain precision electronics.
Adhere to the following advice to prevent damage to the electronics:
• Do not leave the keys in direct sunlight, or in locations with high temperature or high humidity.> • Do not drop the keys or set heavy objects on them.> • Keep the keys away from liquids.> • Do not take the keys apart except for replacing the battery.
If the circuits in the keys are damaged, the engine may not start, and the remote transmitter may not work.
If the keys do not work properly, have them inspected by a dealer.
Keys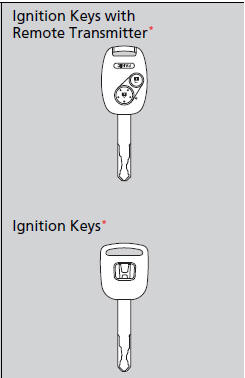 Use the keys to start and stop the engine, and to lock and unlock all the doors, and tailgate.
You can also use the remote transmitter* to lock and unlock the doors, and tailgate.
Key Number Tag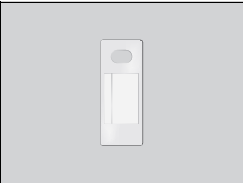 Contains a number that you will need if you purchase a replacement key.
Keep the key number tag separate from the key in a safe place outside of a vehicle.
If you wish to purchase an additional key, contact a dealer.
If you lose your key and you cannot start the engine, contact a dealer.
See also:
Driveshaft Installatio
NOTE: Before starting installation, make sure the mating surfaces of the joint and the splined section are clean. Apply about 5 g (0.18 oz) moly 60 paste (P/N 08734-0001) to the contact ar ...
Torque Converter Housing Mainshaft Bearing and Oil Seal Replacement (A/T)
Special Tools Required Adjustable Bearing Puller, 25пјЌ40 mm 07736-A01000B Driver Handle, 15 x 135L 07749-0010000 Bearing Driver Attachment, 62 x 68 mm 07746-0010500 Bearing Driver Attachme ...
Fuel Economy
Actual Mileage and EPA Fuel Economy Estimates Comparison. Fuel economy is not a fixed number. It varies based on driving conditions, driving habits and vehicle condition. Therefore, it is not possi ...