Honda Fit: Using Speed Dial

PHONE button
► Speed Dial 1 or Speed Dial 2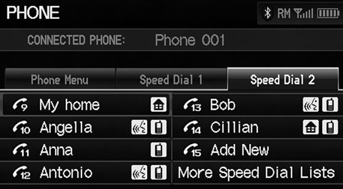 1. Select a speed dial entry.
2. Select Call to begin dialing.
To make a call using speed dial, you need to create speed dial entries.
More Speed Dial Lists
You can make a call by using more speed dials on the other phones.
1. Select another paired phone in the list.
2. Select a speed dial entry.
3. Select Call to begin dialing.
If the other phone is PIN-protected, enter the PIN when prompted. Select OK. PINs are optional.
See also:
Valve Stem-to-Guide Clearance Inspection
Remove the valves. Subtract the O.D. of the valve stem, measured with a micrometer, from the I.D. of the valve guide, measured with an inside micrometer or ball gauge. Take t ...
Recommended Engine Oil
• Genuine Honda Motor Oil • Premium-grade 0W-20 detergent oil with an API Certification Seal on the container. Oil is a major contributor to your engine's performance and longevity. If you ...
Oil Check
We recommend that you check the engine oil level every time you refuel. Park the vehicle on level ground. Wait approximately three minutes after turning the engine off before you check the oi ...