Honda Fit: Using Speed Dial

PHONE button
► Speed Dial 1 or Speed Dial 2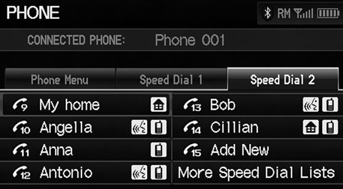 1. Select a speed dial entry.
2. Select Call to begin dialing.
To make a call using speed dial, you need to create speed dial entries.
More Speed Dial Lists
You can make a call by using more speed dials on the other phones.
1. Select another paired phone in the list.
2. Select a speed dial entry.
3. Select Call to begin dialing.
If the other phone is PIN-protected, enter the PIN when prompted. Select OK. PINs are optional.
See also:
Disassembly
Compress the damper spring, then remove the nut (A) while holding the damper shaft with a hex wrench (B). Do not compress the damper spring more than necessary to remove the nut. ...
Radiator Replacement
Raise the vehicle on the lift. Drain the engine coolant. Disconnect the ECT sensor 2 connector (A), then remove the harness clamp (B). With A/C: Re ...
Charging System Indicator
If the charging system indicator comes on brightly when the engine is running, the battery is not being charged. Immediately turn off all electrical accessories. Try not to use other electrically ...