Honda Fit: Changing Your Route

DEST button (when en route)
This section describes how to alter your route, add an interim "waypoint" (pit stop), choose a different destination, cancel your current destination, and continue your trip after stopping.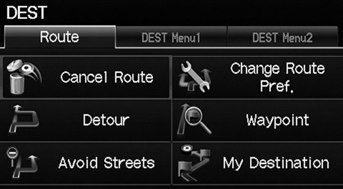 Select an item.
The following items are available:
• Cancel Route: Cancels the route guidance.
• Detour: Calculates a detour route.
• Avoid Streets: Avoids streets along your route.
• Change Route Pref.: Changes the route preferences (calculating method).
• Waypoint: Sets waypoints along your route.
• My Destination: Shows a list of waypoints. You can delete waypoints or edit the order of them.

"Display Menu",


"Display Navigation"
(when en route) If you press the DEST button when not en route, the Destination Menu screen is displayed.
See also:
Ignition Switch
Manual transmission models WARNING Removing the key from the ignition switch while driving locks the steering. This can cause you to lose control of the vehicle. Remove the key from the ignit ...
Audio Antenna
Your vehicle is equipped with an antenna at the rear of the roof . Bef ore using a ''drive-through'' car wash, remove the antenna by unscrewing it by hand. This prevents the antenna f ...
Protecting Infants and Small Children
Protecting Infants Child Seat Type An infant must be properly restrained in a rear-facing, reclining child seat until the child reaches the seat maker's weight or height limit for the seat, an ...