Honda Fit: Editing My Destination

DEST button (when en route)
►My Destination
Delete or edit the order of waypoints.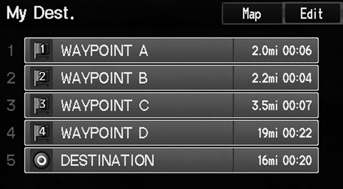 1. Select Edit.
► Select Map to display the destination and waypoints on the map screen.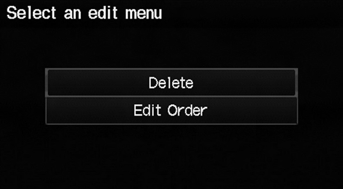 2. Select an item.
3. Select OK.
► The route is automatically recalculated and displayed on the map screen.
The following items are available:
• Delete
: Select a list item to delete.
• Edit
Order
: Select a list item to move, select


or

to select a new location.
See also:
A/T Secondary Shaft Sealing Ring Replacement (A/T)
The sealing rings are synthetic resin with chamfered ends. Check the condition of the sealing rings, and replace them only if they are worn, distorted, or damaged. For a better fit, squeeze ...
Engine Number and Transmission Number
See the image below for the locations of your vehicle's engine number and transmission number. ...
Address Calculation
The destination icon shows only the approximate location of a destination address. This occurs if the number of possible addresses is different from the number of actual addresses on a block. For ...