Honda Fit: Changing Your Route

DEST button (when en route)
This section describes how to alter your route, add an interim "waypoint" (pit stop), choose a different destination, cancel your current destination, and continue your trip after stopping.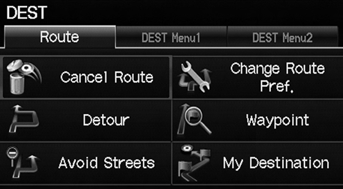 Select an item.
The following items are available:
• Cancel Route: Cancels the route guidance.
• Detour: Calculates a detour route.
• Avoid Streets: Avoids streets along your route.
• Change Route Pref.: Changes the route preferences (calculating method).
• Waypoint: Sets waypoints along your route.
• My Destination: Shows a list of waypoints. You can delete waypoints or edit the order of them.
"Display Menu",

"Display Navigation"
(when en route) If you press the DEST button when not en route, the Destination Menu screen is displayed.
See also:
FTP Sensor Replacement
Remove the EVAP canister. Disconnect the FTP sensor connector (A). Disconnect the hose (B), remove the retainer (C), and remove the FTP sensor (D). Ins ...
Selecting a Destination on the Map
Select a new destination when en route by selecting a location on the map. 1. Scroll the map to position the cursor over your desired destination, adjusting the map scale as necessary. Press the ...
Driveshaft Installatio
NOTE: Before starting installation, make sure the mating surfaces of the joint and the splined section are clean. Apply about 5 g (0.18 oz) moly 60 paste (P/N 08734-0001) to the contact ar ...