Honda Fit: Changing Your Route

DEST button (when en route)
This section describes how to alter your route, add an interim "waypoint" (pit stop), choose a different destination, cancel your current destination, and continue your trip after stopping.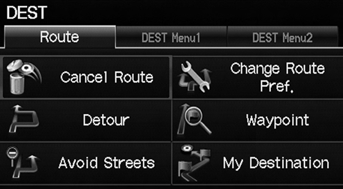 Select an item.
The following items are available:
• Cancel Route: Cancels the route guidance.
• Detour: Calculates a detour route.
• Avoid Streets: Avoids streets along your route.
• Change Route Pref.: Changes the route preferences (calculating method).
• Waypoint: Sets waypoints along your route.
• My Destination: Shows a list of waypoints. You can delete waypoints or edit the order of them.
"Display Menu",

"Display Navigation"
(when en route) If you press the DEST button when not en route, the Destination Menu screen is displayed.
See also:
A/T System Description - Clutches and Gears (A/T)
Clutches and GearsThe five-speed automatic transmission uses hydraulically-actuated clutches to engage or disengage the transmission gears. When hydraulic pressure is introduced into the clut ...
Edit Waypoint Search Area
INFO button ► Setup ►Other ►Routing & Guidance►Edit Waypoint Search Area "Edit" Select the distance from your highlighted route line (on either side of your rout ...
A/T Housing Idler Gear Shaft Removal and Installation (A/T)
Remove the snap ring (A), the cotter retainer (B), and the cotters (C) from the idler gear shaft (D), then remove the idler gear shaft. Do not distort the snap ring. Check ...