Honda Fit: Avoiding Streets

DEST button (when en route)
►Avoid Streets
Select a street or streets along your route to avoid.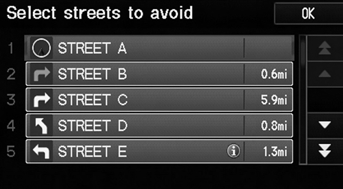 1. Select the street you want to avoid.
► Repeat the procedure to avoid other streets.
► Streets to be avoided are indicated with a trash icon.
Avoiding certain streets is convenient if you know of road construction, road closures, or excessive traffic along the route.
You cannot choose specific streets you want to use, only those to avoid. However, you can select intersections or waypoints (places/landmarks) that the system will use in your route.
You can store up to 10 streets to avoid. You cannot avoid your current street or the streets of your waypoint(s) or destination (system beeps if selected).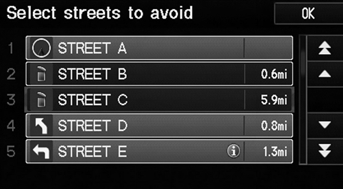 2. Select OK.
 The system calculates a new route.
See also:
Fastening a Seat Belt
After adjusting a front seat to the proper position, and while sitting upright and well back in the seat: 1. Pull the seat belt out slowly. 2. Insert the latch plate into the buckle, then tu ...
Tire Pressure Monitoring System (TPMS) - Required Federal Explanation
Maximum Tire Pressure Max Press - The maximum air pressure the tire can hold. Maximum Tire Load Max Load - The maximum load the tire can carry at maximum air pressure. Tire PressureMonitoring Sys ...
Adding Engine Oil
Unscrew and remove the engine oil fill cap on the valve cover. Pour in the oil slowly and carefully so you do not spill any. Clean up any spills immediately. Spilled oil could damage components ...