Honda Fit: Avoiding Streets

DEST button (when en route)
►Avoid Streets
Select a street or streets along your route to avoid.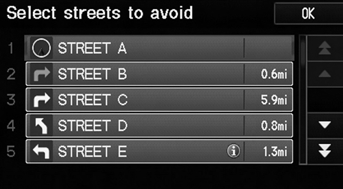 1. Select the street you want to avoid.
► Repeat the procedure to avoid other streets.
► Streets to be avoided are indicated with a trash icon.
Avoiding certain streets is convenient if you know of road construction, road closures, or excessive traffic along the route.
You cannot choose specific streets you want to use, only those to avoid. However, you can select intersections or waypoints (places/landmarks) that the system will use in your route.
You can store up to 10 streets to avoid. You cannot avoid your current street or the streets of your waypoint(s) or destination (system beeps if selected).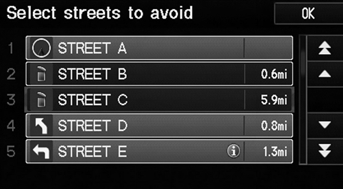 2. Select OK.
 The system calculates a new route.