Honda Fit: Avoiding Streets

DEST button (when en route)
►Avoid Streets
Select a street or streets along your route to avoid.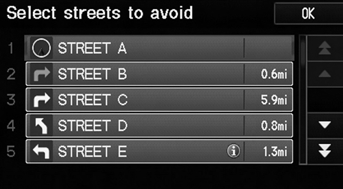 1. Select the street you want to avoid.
► Repeat the procedure to avoid other streets.
► Streets to be avoided are indicated with a trash icon.
Avoiding certain streets is convenient if you know of road construction, road closures, or excessive traffic along the route.
You cannot choose specific streets you want to use, only those to avoid. However, you can select intersections or waypoints (places/landmarks) that the system will use in your route.
You can store up to 10 streets to avoid. You cannot avoid your current street or the streets of your waypoint(s) or destination (system beeps if selected).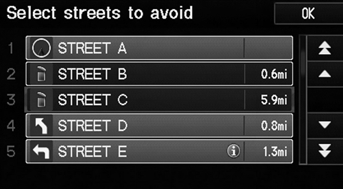 2. Select OK.
 The system calculates a new route.
See also:
Intersection
DEST button ►DEST Menu 2►Intersection Select the intersection of two streets as the destination. The state or province for your current location is displayed at the top of the screen ...
Devices that Emit Radio Waves
The following products and systems on your vehicle emit radio waves when in operation. Each of the above complies with the appropriate requirements or the required standards of FCC (Federal Commu ...
Side Impact Sensor (Second) Replacement
Removal Do the battery terminal disconnection procedure, then wait at least 3 minutes before starting work. Remove the cargo area side trim. Disconnect the side ...