Honda Fit: Avoiding Streets

DEST button (when en route)
►Avoid Streets
Select a street or streets along your route to avoid.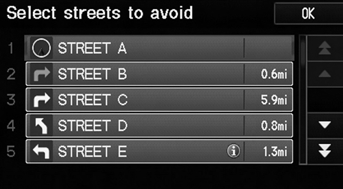 1. Select the street you want to avoid.
► Repeat the procedure to avoid other streets.
► Streets to be avoided are indicated with a trash icon.
Avoiding certain streets is convenient if you know of road construction, road closures, or excessive traffic along the route.
You cannot choose specific streets you want to use, only those to avoid. However, you can select intersections or waypoints (places/landmarks) that the system will use in your route.
You can store up to 10 streets to avoid. You cannot avoid your current street or the streets of your waypoint(s) or destination (system beeps if selected).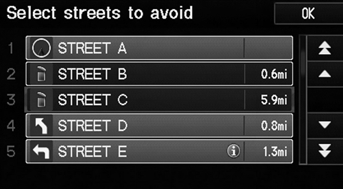 2. Select OK.
 The system calculates a new route.
See also:
Global Commands
The system accepts these commands on any screen. Help (displays available commands for current screen) Display map (equivalent to MAP)> Display menu (equivalent to DEST)> Display informati ...
Auto Door Locking/Unlocking
Your vehicle locks all doors and unlocks the driver's door automatically when a certain condition is met. You can turn off or change to another auto door locking/unlocking setting using the mas ...
Heating and Cooling
Using Vents, Heating and A/C ■Heating The heater uses heat from the engine coolant to warm the air. 1. Adjust the fan speed using the fan control dial. 2. Select and . 3. Adjust t ...