Honda Fit: Avoiding Streets

DEST button (when en route)
►Avoid Streets
Select a street or streets along your route to avoid.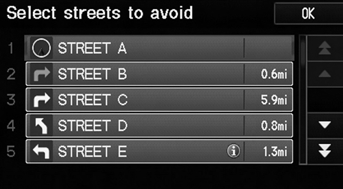 1. Select the street you want to avoid.
► Repeat the procedure to avoid other streets.
► Streets to be avoided are indicated with a trash icon.
Avoiding certain streets is convenient if you know of road construction, road closures, or excessive traffic along the route.
You cannot choose specific streets you want to use, only those to avoid. However, you can select intersections or waypoints (places/landmarks) that the system will use in your route.
You can store up to 10 streets to avoid. You cannot avoid your current street or the streets of your waypoint(s) or destination (system beeps if selected).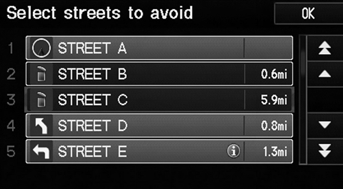 2. Select OK.
 The system calculates a new route.
See also:
Voice Control System
Your vehicle has a voice control system that allows hands-free operation of most of the navigation system functions. You can also control the audio system, and make and receive phone calls using B ...
Unverified Area Routing
INFO button ► Setup ►Other ►Routing & Guidance Receive turn-by-turn map and voice guidance in unverified areas. Select On or Off. Unverified roads are found in rural ar ...
CKP Sensor Replacement
Raise the vehicle on a lift. NOTE: Make sure the vehicle is level, because engine oil will drip out when you remove the sensor. Loosen the bolt (A). Remove the bolt (B) and ...