Honda Fit: Editing My Destination

DEST button (when en route)
►My Destination
Delete or edit the order of waypoints.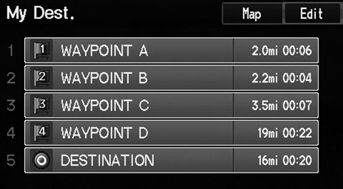 1. Select Edit.
► Select Map to display the destination and waypoints on the map screen.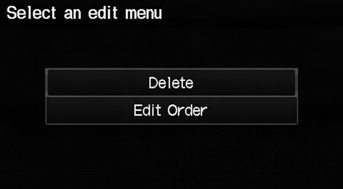 2. Select an item.
3. Select OK.
► The route is automatically recalculated and displayed on the map screen.
The following items are available:
• Delete
: Select a list item to delete.
• Edit
Order
: Select a list item to move, select

or

to select a new location.
See also:
If Your Vehicle Gets Stuck
If your vehicle gets stuck in sand, mud, or snow, call a towing service to pull it out. For very short distances, such as freeing the vehicle, you can use the detachable towing hook that mounts o ...
Changing a Flat Tire
If you have a flat tire while driving, stop in a safe place to change it. Drive slowly along the shoulder until you get to an exit or an area to stop that is far away from the traffic lanes. The ...
Coordinate
DEST button ►DEST Menu 2►Coordinate Specify a location using latitude and longitude map coordinates. 1. Enter the latitude. Select OK. 2. Enter the longitude. Select OK. 3. Scrol ...