Honda Fit: Routing & Guidance
INFO button
► Setup ►Other ►Routing & Guidance
Choose various settings that determine the navigation system functionality during route guidance.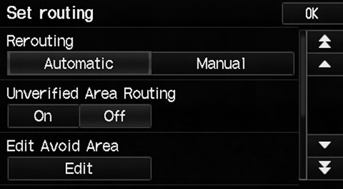 Select an item.
The following items are available:
• Rerouting: Sets the route recalculation to automatic or manual mode.
• Unverified Area Routing: Sets whether you use the route guidance in unverified areas.
• Edit Avoid Area: Specifies areas to avoid when calculating a route.
• Edit Waypoint Search Area: Sets the distance from the route to find waypoints.
• Guidance Mode: Sets whether to display only the map screen or a split
See also:
Ignition Switch Replacement
NOTE: SRS components are located in the area. Review the SRS component locations, and precautions and procedures before doing repairs or servicing. Do the battery terminal di ...
Floor Mats
If you remove a floor mat, make sure to re-anchor it when you put it back in your vehicle. A non-Honda floor mat may not fit your vehicle properly. This could prevent the proper operation of th ...
Front Seat Removal/Installation
Special Tools Required KTC Trim Tool Set SOJATP2014 *Available through the Honda Tool and Equipment Program; call 888-424-6857 Click here for an interactive version of this procedure (d ...