Honda Fit: Routing & Guidance
INFO button
► Setup ►Other ►Routing & Guidance
Choose various settings that determine the navigation system functionality during route guidance.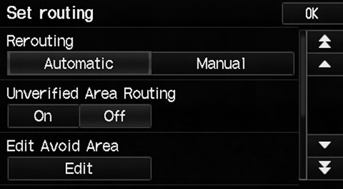 Select an item.
The following items are available:
• Rerouting: Sets the route recalculation to automatic or manual mode.
• Unverified Area Routing: Sets whether you use the route guidance in unverified areas.
• Edit Avoid Area: Specifies areas to avoid when calculating a route.
• Edit Waypoint Search Area: Sets the distance from the route to find waypoints.
• Guidance Mode: Sets whether to display only the map screen or a split
See also:
Brake Assist System
■Brake Assist System Designed to assist the driver by generating greater braking force when you depress the brake pedal hard during emergency braking. ■ Brake assist system operatio ...
Manual Transmission Removal (M/T)
Special Tools Required Universal Lifting Eyelet 07AAK-SNAA120 1.8 Support Bolt 07AAK-SNAA500 Engine Support Hanger, A and Reds AAR-T1256 *: Reds engine support hanger AAR-T1256 is available th ...
Connecting rod Specification(s)
Connecting rod Item Measurement Qualification Standard or New Service Limit Connecting ...