Honda Fit: Routing & Guidance
INFO button
► Setup ►Other ►Routing & Guidance
Choose various settings that determine the navigation system functionality during route guidance.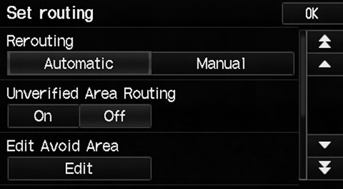 Select an item.
The following items are available:
• Rerouting: Sets the route recalculation to automatic or manual mode.
• Unverified Area Routing: Sets whether you use the route guidance in unverified areas.
• Edit Avoid Area: Specifies areas to avoid when calculating a route.
• Edit Waypoint Search Area: Sets the distance from the route to find waypoints.
• Guidance Mode: Sets whether to display only the map screen or a split
See also:
Honda Fit 2007-2021 Navigation Online Reference Manual
The information and specifications included in this publication were in effect at the time of approval for printing. Honda Motor Co., Ltd., reserves the right, however, to discontinue or change s ...
Brake System Indicator
Brake System Indicator (Red) The brake system indicator (red) normally comes on when you turn the ignition switch to the ON (II) position, and as a reminder to check the parking brake. It will ...
Engine Coolant
Adding Engine Coolant If the coolant level in the reserve tank is at or below the MIN line, add coolant to bring it up to the MAX line. Inspect the cooling system for leaks. Always use Honda Lo ...