Honda Fit: Unverified Area Routing
INFO button
► Setup ►Other ►Routing & Guidance
Receive turn-by-turn map and voice guidance in unverified areas.
Select On or Off.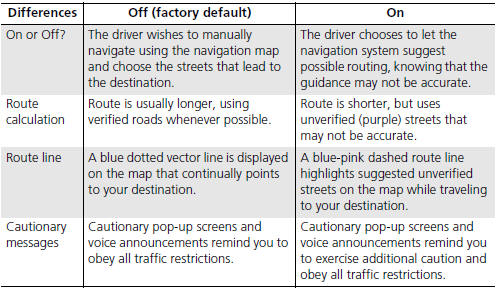 Unverified roads are found in rural areas, and typically include residential streets away from the center of a town. They may not be accurate, and can contain errors in location, naming, and address range.
Unverified roads are shown only when viewing the map in the 1/20, 1/8, 1/4, 1/2, 1, or 2 mile map scales.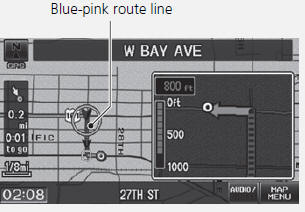 See also:
HFL Menus
Use HFL when the vehicle's ignition is in the ACCESSORY (I) or ON (II) position. You can operate HFL by voice when on the PHONE screen. Below is the flow chart showing available voice commands ...
Place Phone Number
DEST button ►DEST Menu 2►Place Phone Number Select a destination by phone number. Only phone numbers in the database are recognized. 1. Enter the area code and phone number. Select ...
Inspection
Install the nut on the damper shaft end, and set the socket wrench and T-handle on the nut. Compress the damper assembly by hand, and check for smooth operation through a full ...