Honda Fit: Unverified Area Routing
INFO button
► Setup ►Other ►Routing & Guidance
Receive turn-by-turn map and voice guidance in unverified areas.
Select On or Off.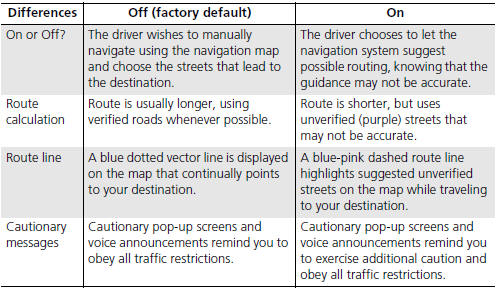 Unverified roads are found in rural areas, and typically include residential streets away from the center of a town. They may not be accurate, and can contain errors in location, naming, and address range.
Unverified roads are shown only when viewing the map in the 1/20, 1/8, 1/4, 1/2, 1, or 2 mile map scales.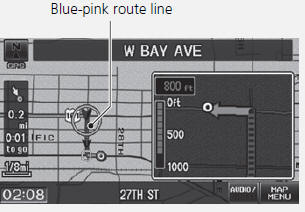 See also:
Going Home
1 Press the DEST button. 2 Select Go Home 1. Alternatively, you can say "Go Home" from any screen. Your home address is displayed on the Calculate Route screen. 3 Select Set as Dest. & ...
Floor Mats
If you remove a floor mat, make sure to re-anchor it when you put it back in your vehicle. A non-Honda floor mat may not fit your vehicle properly. This could prevent the proper operation of th ...
Transmission Side - Release Bearing Inspection
Check the play of the release bearing by spinning it by hand. If there is excessive play or noise, replace the release bearing. NOTE: The release bearing is packed with grease. Do not ...