Honda Fit: Unverified Area Routing
INFO button
► Setup ►Other ►Routing & Guidance
Receive turn-by-turn map and voice guidance in unverified areas.
Select On or Off.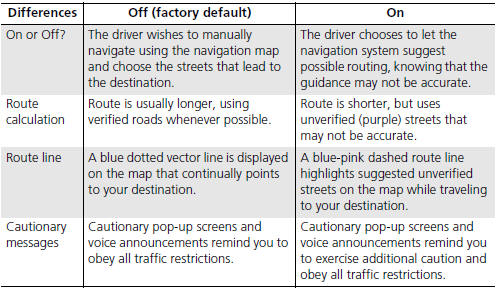 Unverified roads are found in rural areas, and typically include residential streets away from the center of a town. They may not be accurate, and can contain errors in location, naming, and address range.
Unverified roads are shown only when viewing the map in the 1/20, 1/8, 1/4, 1/2, 1, or 2 mile map scales.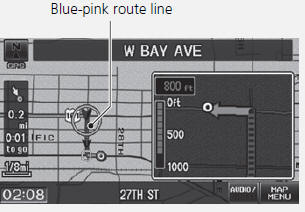 See also:
Brake System
Parking Brake Use the parking brake to keep the vehicle stationary when parking. To apply: Pull the lever fully up without pressing the release button. To release: 1. Pull the lever slightly ...
Anti-lock Brakes (ABS)
The anti-lock brake system (ABS) helps prevent the wheels from locking up, and helps you retain steering control by pumping the brakes rapidly, much faster than a person can do it. The electronic ...
General Commands
Display menu (if en route, displays the Route screen) Display navigation (if en route, displays the Route screen) Display map Display map guide (when en route, shows the next guidance point) Di ...