Honda Fit: Edit Avoid Area
INFO button
► Setup ►Other ►Routing & Guidance►Edit Avoid Area "Edit"
Specify up to five areas to avoid (e.g., road construction, closures), if possible, when the system calculates routes to your destination.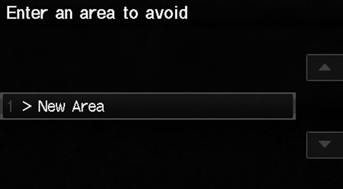 1. Select New Area or an existing area to edit.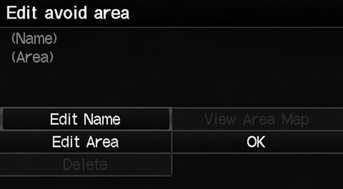 2. Select Edit Name to label the area to avoid.
3. Enter a name or title. Select OK.
4. Select Edit Area to define the area to avoid.
The following items are available (after an area is set): • View Area Map: Displays the selected avoid area on the map.
• Delete: Deletes the selected avoid area.
The avoid areas are shared with User 1 and User 2. For example, if User 1 specifies some avoid areas, User 2 can also use them for setting a route.
The maximum size of an "avoid area" is about 1 square mile.
If your selected area contains a freeway, you are asked "Do you want to avoid freeways?" Answering "No" allows you to use a route through an avoid area on a freeway without any pop-up messages.
You can select areas to avoid, however you cannot select roads or areas that you want the system to use for routing.
You can enter characters for the name until the input field is full.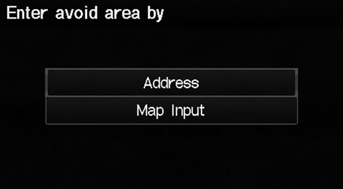 5. Select a method for specifying the area.
The following items are available: • Address: Specify the general area by entering an address.
• Map Input: Specify the general area by map input.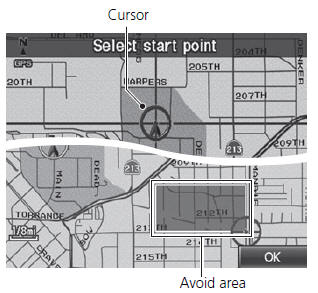 6. Scroll the map to position the cursor over your desired start point, adjusting the map scale as necessary. Press the ENTER button to mark the start point.
 To redo the area selection, press the CANCEL button.
7. Scroll the map to "draw" the area.
Press the ENTER button to mark the end point.
8. Select OK.
► The area you specify is displayed in the list of areas to avoid.
See also:
Carrying Cargo
Your vehicle has several convenient storage areas: • Glove box • Front door pockets • Seat-back pocket • Center pocket • Cargo area side pocket • Cargo area, including the rear sea ...
Technical Information
The diagrams in this section give you the dimensions and capacities of your vehicle and the locations of the identification numbers. It also includes information you should know about your vehicle ...
Fuse Access Panel Removal/Installation
NOTE: Take care not to scratch the dashboard or its related parts. Do not pry on the panel surface with any tools. Pull the fuse access panel (A) back by hand to release the ...