Honda Fit: Personal Information
INFO button
► Setup ►Personal Information
Use the personal information menu to select and set your address books, home addresses, and PINs. You can also delete unwanted destinations from the list of previously routed destinations.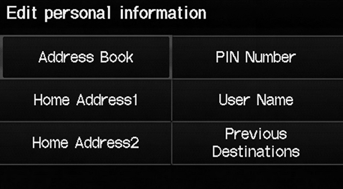 Select an item.
The following items are available:
• Address Book: Stores new addresses or edits your address book.
• Home Address 1: Sets or edits your home address.
• Home Address 2: Sets or edits another home address.
• PIN Number: Sets or changes your PIN.
• User Name: Sets or changes your user name.
• Previous Destinations: Deletes the destination history.
Personal information cannot be backed up or moved to another navigation system.
See also:
System Theft Protection
The system is disabled when it is disconnected from the power source, such as when the battery is disconnected or goes dead. ■ Reactivating the system 1. Turn the ignition switch to ON (II) ...
Fuel Recommendation
Your vehicle is designed to operate on unleaded gasoline with a pump octane number of 87 or higher. Use of a lower octane gasoline can cause a persistent, heavy metallic rapping noise that can lea ...
Automatic Transmission
■Creeping The engine may run at a higher idle speed and creeping increases: • Immediately after the engine starts. • When the heating and cooling system is in use. Keep the brake pedal f ...