Honda Fit: PIN Numbers
INFO button
► Setup ►Personal Information►PIN Number
Set a 4-digit PIN for protecting personal addresses and your home addresses. Once you set a PIN, you are prompted to enter it whenever you access a personal address or a home address.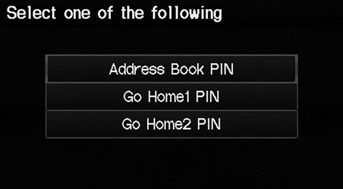 1. Select the PIN to create.
2. Select the user name (when selecting Address Book PIN).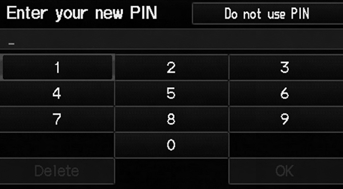 3. Enter a 4-digit PIN.
4. Re-enter the new PIN when prompted to confirm the number you just entered.
 If you do not enter the same number both times, an "INCORRECT PIN" message is displayed. Enter your PIN again.
PIN

Personal Identification Number (PIN) is a password used to access some personal data.
PINs are optional. If you choose to use a PIN, keep a note of the number in a secure location. If you forget your PIN, your dealer will have to reset the navigation system and all of your stored information will be erased. The factory default is no PIN.
Go Home PIN

Go Home PINs are shared with User 1 and User 2. If either User 1 or User 2 sets a Go Home PIN, both of them need to enter the PIN when:
• selecting Go Home for a destination • selecting Home Address for editing
If you want to stop using a PIN, select Do not use PIN.
See also:
A/T System Description - Lock-Up System (A/T)
Lock-up SystemThe lock-up mechanism of the torque converter clutch operates in all five gears in D, in 3rd gear in D3, and 3rd and 4th gears in S with the automatic shift mode. The pressurize ...
Playing a USB Flash Drive
■Connecting a USB Flash Drive 1. Unclip the USB connector in the center console and loosen the adapter cable. 2. Install the USB flash drive to the USB connector. • Do not use an extens ...
A/T System Description - Hydraulic Controls (A/T)
Hydraulic ControlsThe valve body includes the main valve body, the regulator valve body, and the servo body. The ATF pump is driven by splines on the end of the torque converter which is atta ...