Honda Fit: PIN Numbers
INFO button
► Setup ►Personal Information►PIN Number
Set a 4-digit PIN for protecting personal addresses and your home addresses. Once you set a PIN, you are prompted to enter it whenever you access a personal address or a home address.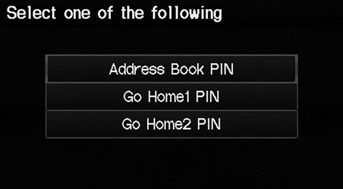 1. Select the PIN to create.
2. Select the user name (when selecting Address Book PIN).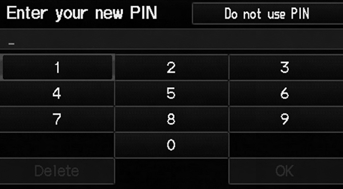 3. Enter a 4-digit PIN.
4. Re-enter the new PIN when prompted to confirm the number you just entered.
 If you do not enter the same number both times, an "INCORRECT PIN" message is displayed. Enter your PIN again.
PIN

Personal Identification Number (PIN) is a password used to access some personal data.
PINs are optional. If you choose to use a PIN, keep a note of the number in a secure location. If you forget your PIN, your dealer will have to reset the navigation system and all of your stored information will be erased. The factory default is no PIN.
Go Home PIN

Go Home PINs are shared with User 1 and User 2. If either User 1 or User 2 sets a Go Home PIN, both of them need to enter the PIN when:
• selecting Go Home for a destination • selecting Home Address for editing
If you want to stop using a PIN, select Do not use PIN.
See also:
Transmission End Cover Removal (A/T)
Special Tools Required Mainshaft Holder 07GAB-PF50101 Remove the bolts securing the ATF inlet line (D) and ATF filter holder (E), the line bolt and sealing washers, and remove the ATF in ...
Shaft Assembly and Housing Installation (A/T)
Install the differential assembly in the torque converter housing. Install the baffle plate. Assemble the mainshaft, the countershaft, and the secondary shaft. NO ...
If Your Vehicle Gets Stuck
If your vehicle gets stuck in sand, mud, or snow, call a towing service to pull it out. For very short distances, such as freeing the vehicle, you can use the detachable towing hook that mounts o ...