Honda Fit: Previous Destinations
INFO button
► Setup ►Personal Information►Previous Destinations
The navigation system maintains a list of your previously routed destinations as a shortcut for entering the same destination in the future. You can delete some or all of your previous destinations from the list.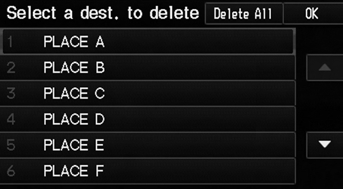 1. Select the destination to delete.
► Repeat the procedure as necessary.
► Items to be deleted are indicated with a trash icon.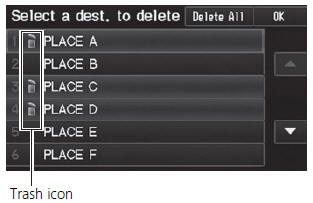 2. Select OK to delete the selected destinations.
Up to 50 destinations can be stored.
The list of previous destinations is shared with User 1 and User 2. For example, if User 1 deletes some previous destinations, they are deleted for User 2 as well.
To cancel the selection of a previous destination, select the destination again.
Selecting Delete All allows you to delete all destinations.
See also:
Mainshaft Assembly Clearance Inspection (M/T)
NOTE: If replacement is required, always replace the synchro sleeve and the synchro hub as a set. Support the bearing inner race with an appropriate size socket (A), and push down on the m ...
Cleaning the Seat Belts
Cleaning the Seat Belts If your seat belts get dirty, use a soft brush with a mixture of mild soap and warm water to clean them. Do not use bleach, dye, or cleaning solvents. Let the belts air- ...
Towing a Trailer
Your vehicle is not designed to tow a trailer. Attempting to do so can void your warranties. Towing Your Vehicle Your vehicle can be towed behind a motorhome. ■When Your Vehicle is Towed B ...