Honda Fit: Previous Destinations
INFO button
► Setup ►Personal Information►Previous Destinations
The navigation system maintains a list of your previously routed destinations as a shortcut for entering the same destination in the future. You can delete some or all of your previous destinations from the list.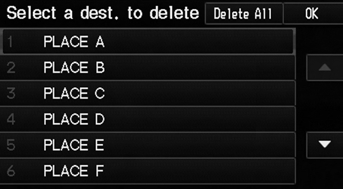 1. Select the destination to delete.
► Repeat the procedure as necessary.
► Items to be deleted are indicated with a trash icon.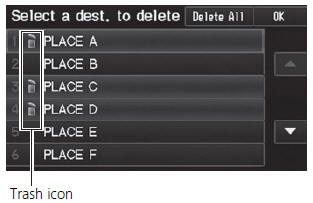 2. Select OK to delete the selected destinations.
Up to 50 destinations can be stored.
The list of previous destinations is shared with User 1 and User 2. For example, if User 1 deletes some previous destinations, they are deleted for User 2 as well.
To cancel the selection of a previous destination, select the destination again.
Selecting Delete All allows you to delete all destinations.
See also:
Warranty Coverages
U.S. Owners Your new vehicle is covered by these warranties: New Vehicle Limited -covers your new vehicle, except for the battery, emissions control systems, and accessories against defects in mat ...
FTP Sensor Replacement
Remove the EVAP canister. Disconnect the FTP sensor connector (A). Disconnect the hose (B), remove the retainer (C), and remove the FTP sensor (D). Ins ...
Disc Commands
DISC play DISC play track # (#: 1 to 30) DISC skip forward DISC skip back DISC track random* DISC track repeat* DISC track scan* DISC folder up DISC folder down DISC folder random* DISC fold ...