Honda Fit: Previous Destinations
INFO button
► Setup ►Personal Information►Previous Destinations
The navigation system maintains a list of your previously routed destinations as a shortcut for entering the same destination in the future. You can delete some or all of your previous destinations from the list.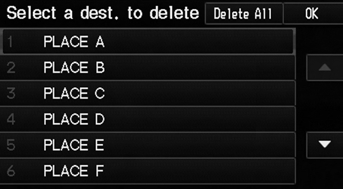 1. Select the destination to delete.
► Repeat the procedure as necessary.
► Items to be deleted are indicated with a trash icon.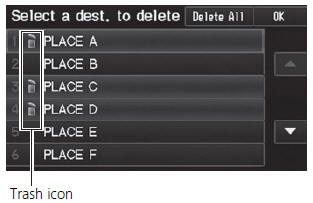 2. Select OK to delete the selected destinations.
Up to 50 destinations can be stored.
The list of previous destinations is shared with User 1 and User 2. For example, if User 1 deletes some previous destinations, they are deleted for User 2 as well.
To cancel the selection of a previous destination, select the destination again.
Selecting Delete All allows you to delete all destinations.
See also:
As required by the FCC
1)This device complies with Part 15 of the FCC Rules and Canadian RSS-210/RSSGen. Operation is subject to the following two conditions: (1) this device may not cause harmful interference, and (2 ...
Registering a Voice Tag to a Speed Dial Entry
PHONE button ► Speed Dial 1 or Speed Dial 2 1. Select a speed dial entry. 2. Select Edit Speed Dial. 3. Select Voice Tag. 4. Follow the prompt to enter a voice tag. Voice tags allow ...
Specifications
Dimensions Weights Seating Capacities Engine Capacities *1: Excluding the oil remaining in the engine *2: Including the coolant in the reserve tank and that remaining in the engine ...