Honda Fit: Previous Destinations
INFO button
► Setup ►Personal Information►Previous Destinations
The navigation system maintains a list of your previously routed destinations as a shortcut for entering the same destination in the future. You can delete some or all of your previous destinations from the list.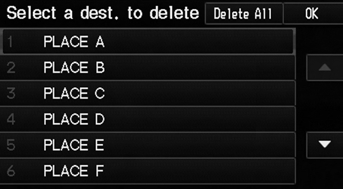 1. Select the destination to delete.
► Repeat the procedure as necessary.
► Items to be deleted are indicated with a trash icon.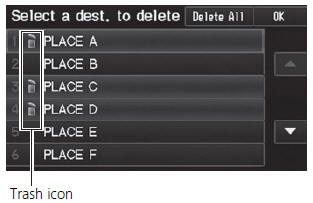 2. Select OK to delete the selected destinations.
Up to 50 destinations can be stored.
The list of previous destinations is shared with User 1 and User 2. For example, if User 1 deletes some previous destinations, they are deleted for User 2 as well.
To cancel the selection of a previous destination, select the destination again.
Selecting Delete All allows you to delete all destinations.
See also:
Setting the Clock
Press and hold the CLOCK (SOUND) button until you hear a beep. The displayed time begins to blink. Change the hours by pressing the H (preset 4) button until the numbers advance to the desired tim ...
System Initialization
The navigation system must be initialized if power to the navigation system is interrupted for any reason (e.g., the battery was disconnected). ...
Taking Care of the Unexpected
This section covers the more common problems that motorists experience with their vehicles. It gives you information about how to safely evaluate the problem and what to do to correct it. If the p ...