Honda Fit: Previous Destinations
INFO button
► Setup ►Personal Information►Previous Destinations
The navigation system maintains a list of your previously routed destinations as a shortcut for entering the same destination in the future. You can delete some or all of your previous destinations from the list.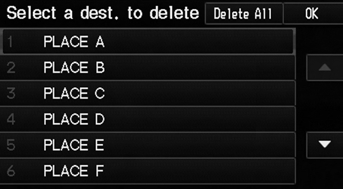 1. Select the destination to delete.
► Repeat the procedure as necessary.
► Items to be deleted are indicated with a trash icon.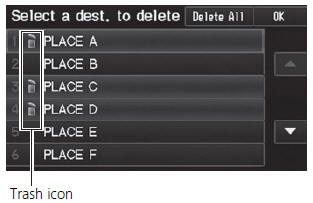 2. Select OK to delete the selected destinations.
Up to 50 destinations can be stored.
The list of previous destinations is shared with User 1 and User 2. For example, if User 1 deletes some previous destinations, they are deleted for User 2 as well.
To cancel the selection of a previous destination, select the destination again.
Selecting Delete All allows you to delete all destinations.
See also:
Fuel Economy
Improving Fuel Economy Fuel economy depends on several conditions, including driving conditions, your driving habits, the condition of your vehicle, and loading. Depending on these and other co ...
Checking Tires
To safely operate your vehicle, your tires must be of the proper type and size, in good condition with adequate tread, and properly inflated. ■ Inflation guidelines Properly inflated tire ...
Tailgate Handle Replacement
NOTE: Put on gloves to protect your hands. Take care not to scratch the tailgate or the related parts. Remove these items: Tailgate lower trim panel ...