Honda Fit: Previous Destinations
INFO button
► Setup ►Personal Information►Previous Destinations
The navigation system maintains a list of your previously routed destinations as a shortcut for entering the same destination in the future. You can delete some or all of your previous destinations from the list.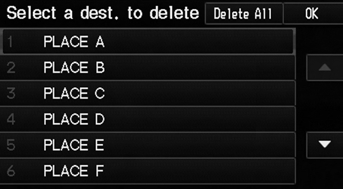 1. Select the destination to delete.
► Repeat the procedure as necessary.
► Items to be deleted are indicated with a trash icon.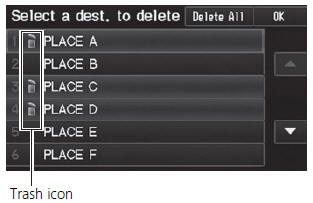 2. Select OK to delete the selected destinations.
Up to 50 destinations can be stored.
The list of previous destinations is shared with User 1 and User 2. For example, if User 1 deletes some previous destinations, they are deleted for User 2 as well.
To cancel the selection of a previous destination, select the destination again.
Selecting Delete All allows you to delete all destinations.
See also:
Place Category
DEST button ►Place Category Select the category of a place (e.g., Banking, Lodging, Restaurant) stored in the map database to search for the destination. 1. Select a category. 2. Sel ...
Ball Joint Removal
Special Tools Required Ball Joint Thread Protector, 10 mm 07AAF-SECA120 Ball Joint Thread Protector, 14 mm 071AF-S3VA000 Ball Joint Remover, 28 mm 07MAC-SL0A202 notice ...
Maintenance Minder
Your vehicle displays engine oil life and maintenance service items on the information display to show you when you should have your dealer do engine oil replacement and indicated maintenance serv ...