Honda Fit: Previous Destinations
INFO button
► Setup ►Personal Information►Previous Destinations
The navigation system maintains a list of your previously routed destinations as a shortcut for entering the same destination in the future. You can delete some or all of your previous destinations from the list.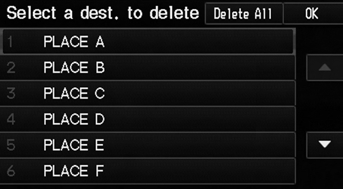 1. Select the destination to delete.
► Repeat the procedure as necessary.
► Items to be deleted are indicated with a trash icon.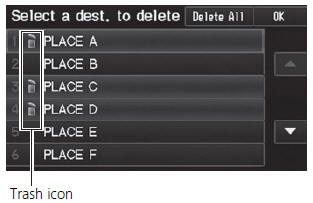 2. Select OK to delete the selected destinations.
Up to 50 destinations can be stored.
The list of previous destinations is shared with User 1 and User 2. For example, if User 1 deletes some previous destinations, they are deleted for User 2 as well.
To cancel the selection of a previous destination, select the destination again.
Selecting Delete All allows you to delete all destinations.
See also:
Engine Number and Transmission Number
See the image below for the locations of your vehicle's engine number and transmission number. ...
Disassembly
Compress the damper spring, then remove the nut (A) while holding the damper shaft with a hex wrench (B). Do not compress the damper spring more than necessary to remove the nut. ...
If Your Vehicle Gets Stuck
If your vehicle gets stuck in sand, mud, or snow, call a towing service to pull it out. For very short distances, such as freeing the vehicle, you can use the detachable towing hook that mounts o ...