Honda Fit: Previous Destinations
INFO button
► Setup ►Personal Information►Previous Destinations
The navigation system maintains a list of your previously routed destinations as a shortcut for entering the same destination in the future. You can delete some or all of your previous destinations from the list.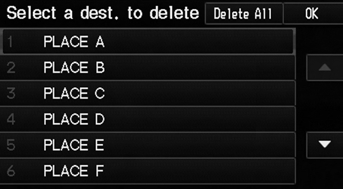 1. Select the destination to delete.
► Repeat the procedure as necessary.
► Items to be deleted are indicated with a trash icon.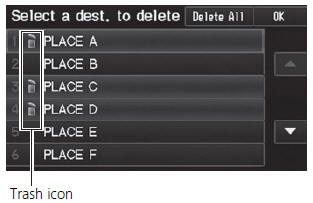 2. Select OK to delete the selected destinations.
Up to 50 destinations can be stored.
The list of previous destinations is shared with User 1 and User 2. For example, if User 1 deletes some previous destinations, they are deleted for User 2 as well.
To cancel the selection of a previous destination, select the destination again.
Selecting Delete All allows you to delete all destinations.
See also:
Water Pump Inspection
Remove the right front wheel. Remove the splash shield. Loosen the water pump pulley mounting bolts (A). Remove the drive belt. Remove the ...
System Initialization
The navigation system must be initialized if power to the navigation system is interrupted for any reason (e.g., the battery was disconnected). ...
Handling the Unexpected
This chapter explains how to handle unexpected troubles. ...