Honda Fit: Previous Destinations
INFO button
► Setup ►Personal Information►Previous Destinations
The navigation system maintains a list of your previously routed destinations as a shortcut for entering the same destination in the future. You can delete some or all of your previous destinations from the list.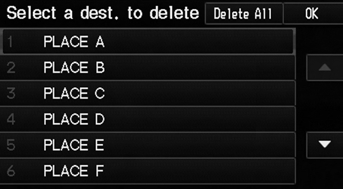 1. Select the destination to delete.
► Repeat the procedure as necessary.
► Items to be deleted are indicated with a trash icon.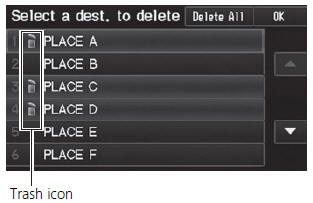 2. Select OK to delete the selected destinations.
Up to 50 destinations can be stored.
The list of previous destinations is shared with User 1 and User 2. For example, if User 1 deletes some previous destinations, they are deleted for User 2 as well.
To cancel the selection of a previous destination, select the destination again.
Selecting Delete All allows you to delete all destinations.
See also:
Breather Line and Suction Line Inspection (Page-1)
Special Tools Required Fuel Pressure Gauge Attachment Set 07AAJ-S6MA150 Vacuum Pump/Gauge, 0-30 inHg Snap-on YA4000A or equivalent, commercially available Vacuum/Pressure Gauge, 0-4 inHg 07 ...
Door Locks
Each door has a lock tab on the top of the door. Push in the tab to lock the door, and pull it out to unlock. On Canadian DX model To lock the passenger's door when getting out of the vehicle, ...
Instrument Panel
Gauges/Information Display/System Indicators Lights Reminders System Indicators System Indicators System Indicators System Indicators ...