Honda Fit: Brake System Indicator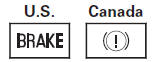 Brake System Indicator (Red)
The brake system indicator (red) normally comes on when you turn the ignition switch to the ON (II) position, and as a reminder to check the parking brake. It will stay on if you do not fully release the parking brake.
If the brake system indicator (red) comes on while driving, the brake fluid level is probably low. Press lightly on the brake pedal to see if it feels normal. If it does, check the brake fluid level the next time you stop at a service station.
If the fluid level is low, take your vehicle to a dealer, and have the brake system inspected for leaks or worn brake pads/shoes.
However, if the brake pedal does not feel normal, you should take immediate action. A problem in one part of the system's dual circuit design will still give you braking at two wheels. You will feel the brake pedal go down much farther before the vehicle begins to slow down, and you will have to press harder on the pedal.
Slow down by shifting to a lower gear, and pull to the side of the road when it is safe. Because of the long distance needed to stop, it is hazardous to drive the vehicle. You should have it towed and repaired as soon as possible.
If you must drive the vehicle a short distance in this condition, drive slowly and carefully.
If the ABS indicator comes on with the brake system indicator, have your vehicle inspected by your dealer immediately.
See also:
Hood Opener Cable Replacement
NOTE: Put on gloves to protect your hands. Take care not to scratch the body or its related parts. Remove these items: Front grille cover Front ...
General Commands
Display menu (if en route, displays the Route screen) Display navigation (if en route, displays the Route screen) Display map Display map guide (when en route, shows the next guidance point) Di ...
Safety Labels
These labels are in the locations shown. They warn you of potential hazards that could cause serious injury or death. Read these labels carefully. If a label comes off or becomes hard to read (exce ...