Honda Fit: Interior Lights
Ceiling Light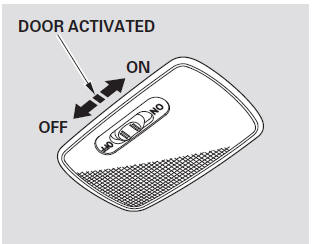 The ceiling light has a three-position switch; ON, Door Activated, and OFF. In the Door Activated (center) position, the light comes on when you: • Open any door.
• Unlock the doors and the tailgate with the key or the remote transmitter (if equipped)
After all doors are closed tightly, the light fades out in about 30 seconds.
The ceiling light (with the switch in the door activated position) comes on when you remove the key from the ignition switch. If you do not open a door, the light fades out in about 30 seconds.
If you leave any door open without the key in the ignition switch, the ceiling light will go off after 3 minutes.
See also:
Alternator Brush Inspection
Measure the length of both brushes (A) with a vernier caliper: If either brush is shorter than the service limit, replace the brushes, go to step 20. If brush length ...
Setting Up Speed Dialing
PHONE button ► Speed Dial 1 or Speed Dial 2 Create speed dial entries with voice tags for easy calling. 1. Select Add New. 2. Select a number entry option. 3. Select a number.> 4. ...
Inspection
Install the nut on the damper shaft end, and set the socket wrench and T-handle on the nut. Compress the damper assembly by hand, and check for smooth operation through a full ...