Honda Fit: Gauges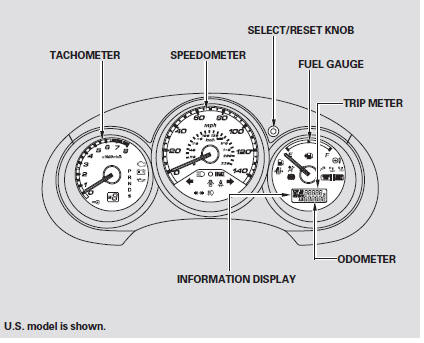 TripMeter
This meter shows the number of miles (U.S.) or kilometers (Canada) driven since you last reset it.
There are two trip meters: Trip A and Trip B. Switch between these displays by pressing the select/reset knob repeatedly.
Each trip meter works independently, so you can keep track of two different distances.
When you turn the ignition switch to the ON (II) position, the last selection is displayed.
To reset a trip meter, display it, and then press and hold the select/reset knob until the number resets to ''0.0''
Odometer
The odometer shows the total distance your vehicle has been driven. It measures miles in U.S.
models and kilometers in Canadian models. It is illegal under U.S.
federal law and Canadian provincial regulations to disconnect, reset, or alter the odometer with the intent to change the number of miles or kilometers indicated.
Fuel Gauge
This shows how much fuel you have.
It may show slightly more or less than the actual amount. The needle returns to the bottom after you turn off the ignition.

Avoid driving with an extremely low f uel level. Running out of f uel could cause the engine to misf ire, damaging the catalytic converter.
Check Fuel Cap Indicator
If your fuel fill cap is loose or missing, a ''CHECK FUEL CAP'' message appears as text on the information display after you start the engine. The message appears from CHECK to FUEL, then to CAP repeatedly.
Turn the engine off and confirm the fuel fill cap is installed. If it is, loosen the cap, then retighten it until it clicks at least once. You can cycle the message off of the display by pressing the select/reset knob repeatedly, but this message will be displayed each time the engine is started. It will take several days of normal driving for the vehicle to turn the warning off.
If the system still detects a loose or missing fuel fill cap, the malfunction indicator lamp (MIL) comes on.
Turn the engine off, and check or retighten the fuel fill cap until it clicks at least once. The MIL goes out after several days of normal driving once the cap is tightened or replaced. If it does not go out, have your dealer inspect the vehicle.
Maintenance Minder
The information display in the instrument panel shows you the engine oil life and maintenance service items when the ignition switch is in the ON (II) position. This information helps to keep you aware of the periodic maintenance your vehicle needs for continued troublefree driving.