Honda Fit: Brake Light, Taillight, Back-Up Light and Rear Turn Signal Light Bulbs
When replacing, use the following bulbs.
Brake/Taillight: 21/5 W Back-Up Light: 16 W
Rear Turn Signal Light: 21 W (Amber)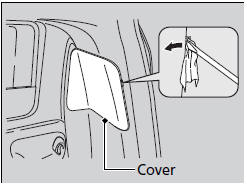 1. Pry on the edge of the cover using a flat-tip screwdriver to remove the cover.
► Wrap the flat-tip screwdriver with a cloth to prevent scratches.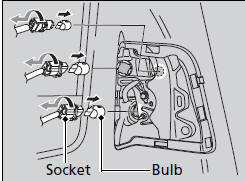 2. Turn the socket to the left and remove it.
Remove the old bulb.
3. Insert a new bulb.
See also:
Shaft Assembly and Housing Installation (A/T)
Install the differential assembly in the torque converter housing. Install the baffle plate. Assemble the mainshaft, the countershaft, and the secondary shaft. NO ...
Adjusting the Sound
AUDIO button ( ►AUDIO MENU ) ► SOUND Adjust the sound bass, treble, fader, and balance. In addition, you can set Speedsensitive Volume Compensation (SVC). 1. Select the tab to adju ...
Ignition Switch
Manual transmission models WARNING Removing the key from the ignition switch while driving locks the steering. This can cause you to lose control of the vehicle. Remove the key from the ignit ...