Honda Fit: Brake Light, Taillight, Back-Up Light and Rear Turn Signal Light Bulbs
When replacing, use the following bulbs.
Brake/Taillight: 21/5 W Back-Up Light: 16 W
Rear Turn Signal Light: 21 W (Amber)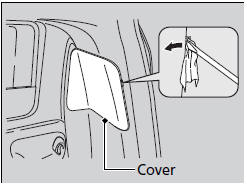 1. Pry on the edge of the cover using a flat-tip screwdriver to remove the cover.
► Wrap the flat-tip screwdriver with a cloth to prevent scratches.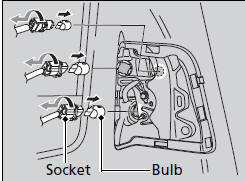 2. Turn the socket to the left and remove it.
Remove the old bulb.
3. Insert a new bulb.
See also:
Troubleshooting
Why does the vehicle position icon on the map "lag" a short distance behind my actual position, especially at intersections? This is normal. The navigation system is unaware of the width o ...
Keys and Locks
On Sport model Your vehicle comes with the two ignition keys. All models except Sport You should have received a key number tag with your keys. You will need this key number if you ever have ...
Emblem/Sticker Replacement
NOTE: When removing the emblems/stickers, take care not to scratch the body. To remove the front ёH'' emblem, remove the front grille. To remove the rear ёH'' em ...