Honda Fit: Brake Light, Taillight, Back-Up Light and Rear Turn Signal Light Bulbs
When replacing, use the following bulbs.
Brake/Taillight: 21/5 W Back-Up Light: 16 W
Rear Turn Signal Light: 21 W (Amber)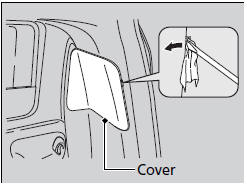 1. Pry on the edge of the cover using a flat-tip screwdriver to remove the cover.
► Wrap the flat-tip screwdriver with a cloth to prevent scratches.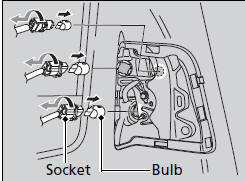 2. Turn the socket to the left and remove it.
Remove the old bulb.
3. Insert a new bulb.
See also:
Front Seat Frame Replacement
Driver's Seat Check the operation of the driver's seat position sensor after any of these actions : Driver's seat position sensor replacement Cover plate (f ...
A/C Refrigerant Oil Replacement (With A/C)
Special Tools Required Oil Injector Tool Robinair ROB16256, commercially available *This tool is available through the Honda Tool and Equipment Program; call 888-424-6857 Recommended PA ...
Tire and Wheel Replacement
Replace your tires with radials of the same size, load range, speed rating, and maximum cold tire pressure rating (as shown on the tire's sidewall). Using tires of a different size or construc ...