Honda Fit: Mirrors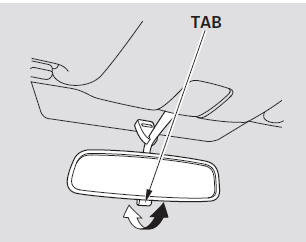 Keep the inside and outside mirrors clean and adjusted for best visibility.
Be sure to adjust the mirrors before you start driving.
The inside mirror has day and night positions. The night position reduces glare from headlights behind you.
Flip the tab on the bottom edge of the mirror to select the day or night position.
Adjusting the Power Mirrors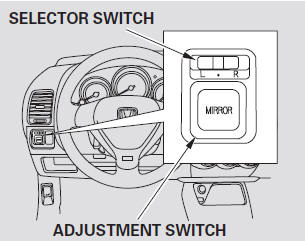 All models except Canadian DX
1. Turn the ignition switch to the ON (II) position.
2. Move the selector switch to L (driver's side) or R (passenger's side).
3. Push the appropriate edge of the adjustment switch to move the mirror right, left, up, or down.
4. When you finish, move the selector switch to the center (off) position. This turns the adjustment switch off to keep your settings.
See also:
Front Turn Signal Light Bulbs
When replacing, use the following bulbs. Front Turn Signal Light: 21 W (Amber) 1. Turn the socket to the left and remove it. 2. Push in the old bulb, rotate to the left until it unlocks, and rem ...
Cam Chain Removal
NOTE: Keep the cam chain away from magnetic fields. Turn the crankshaft pulley so its top dead center (TDC) mark (A) lines up with the pointer (B). Remove the cylinder he ...
Radiator Replacement
Raise the vehicle on the lift. Drain the engine coolant. Disconnect the ECT sensor 2 connector (A), then remove the harness clamp (B). With A/C: Re ...