Honda Fit: Map Input

DEST button
►DEST Menu 2►Map Input
Use the joystick to manually select an icon or a location on the map screen as the destination.
You are prompted to define the map area to display.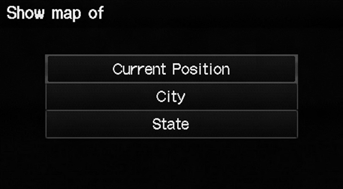 1. Select an item.
The following items are available:
• Current Position: Your current location is centered on the map.
• City: You are prompted to select the city.
• State: You are prompted to select the state.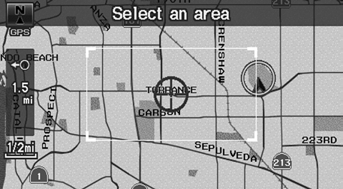 2. Scroll the map to position the cursor over your desired destination, adjusting the map scale as necessary. Press the ENTER button.
► If the address is not the desired location, scroll the map to another location and try again.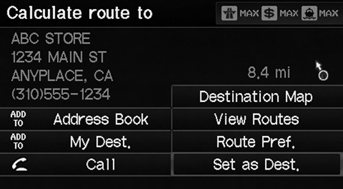 3. Press the ENTER button again to display the route calculation menu.
4. Select Set as Dest.
A yellow box (shown at scales above 1/4 mile) denotes the area that can be viewed when you press the ENTER button on the current map.
Information icons are displayed at scales from 1 mile to 1/4 mile. Place/landmark icons are displayed at 1/8 mile or less. Roads are displayed at 1/4 mile or less.
If you select multiple icons within the cursor radius, you are prompted to select one of the items from a list.
See also:
Turn Signals
The turn signals can be used when the ignition switch is in ON . ...
Door Glass Adjustment
NOTE: Check the weatherstrips and glass run channel for damage or deterioration, and replace them if necessary. Place the vehicle on a firm, level surface. Remove these items: ...
Airbag System Components
The front, front side, and side curtain airbags are deployed according to the direction and severity of impact. The airbag system includes: 1 Two SRS (Supplemental Restraint System) front airba ...