Honda Fit: Using Call History

PHONE button
► Call History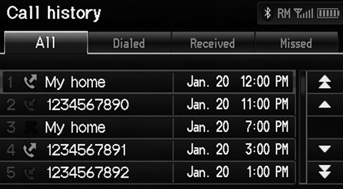 1. Select a call.
 Select All, Dialed, Received, Missed to view the call history by category.
2. Select Call to begin dialing.
The call history shows the last 20 calls from your phone.
See also:
A/T Differential Backlash Inspection (A/T)
Install the driveshaft and intermediate shaft into the differential assembly, and place the axles on V-blocks (A). Measure the backlash of the pinion gears (B) wit ...
Tool Maintenance
Follow these instructions to keep the ATF cooler cleaner working properly: Replace the two magnetic nonbypass spin-on filters after every 20 hours of use, based on the hour meter, or when yo ...
Countershaft Disassembly (M/T)
NOTE: Refer to the Exploded View in the countershaft reassembly, as needed, when removing components pressed onto the countershaft. Securely clamp the countershaft assembly in a bench vise wi ...