Honda Fit: Using Call History

PHONE button
► Call History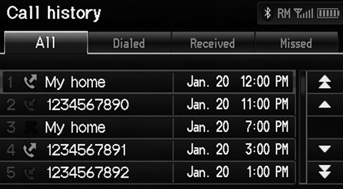 1. Select a call.
 Select All, Dialed, Received, Missed to view the call history by category.
2. Select Call to begin dialing.
The call history shows the last 20 calls from your phone.
See also:
Database
The digitized map database reflects conditions as they existed at various points in time before production. Accordingly, your database may contain inaccurate or incomplete data or information due ...
Power Windows System Description
Anti-pinch Power Window OperationThe system is composed of the power window control unit (built into the power window master switch) and the driver's power window motor. The driver's p ...
Transmission Side - Release Bearing Installation
Apply high temp urea grease (P/N 08798-9002) to the release fork (A), the release fork bolt (B), the release bearing (C), and the release bearing guide (D) in the shaded areas, then set th ...