Honda Fit: Place Phone Number

DEST button
►DEST Menu 2►Place Phone Number
Select a destination by phone number. Only phone numbers in the database are recognized.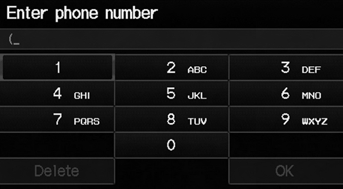 1. Enter the area code and phone number. Select OK.
2. Set the route to your destination.
All 10 digits must be entered.
Phone numbers of private residences entered in your address book are not stored in the database and thus cannot be used to search for a destination.
A list is displayed if there are multiple locations in the database with the same phone number.
Select a place from the list.
See also:
Brightness Control
When the parking lights are turned on and the ignition switch is in ON , you can use the (select/reset) knob to adjust instrument panel brightness. Brighten: Turn the knob to the right. ...
Ignition Switch
The ignition switch has four positions: LOCK (0), ACCESSORY (I), ON (II), and START (III). LOCK (0) - You can insert or remove the key only in this position. To turn the key, push it in slightly ...
Rear Brake Hose Replacement
Raise and support the vehicle. Remove the rear wheel. Disconnect the brake hose (A) from the brake line (B) using a 10 mm flare-nut wrench (C). ...