Honda Fit: Place Phone Number

DEST button
►DEST Menu 2►Place Phone Number
Select a destination by phone number. Only phone numbers in the database are recognized.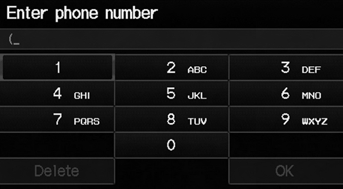 1. Enter the area code and phone number. Select OK.
2. Set the route to your destination.
All 10 digits must be entered.
Phone numbers of private residences entered in your address book are not stored in the database and thus cannot be used to search for a destination.
A list is displayed if there are multiple locations in the database with the same phone number.
Select a place from the list.
See also:
Tailgate Handle Replacement
NOTE: Put on gloves to protect your hands. Take care not to scratch the tailgate or the related parts. Remove these items: Tailgate lower trim panel ...
Reverse Shift Fork Clearance Inspection (M/T)
Measure the clearance between the reverse idler gear (A) and the reverse shift fork (B) with a feeler gauge (C). If the clearance is more than the service limit, go to step 2. ...
Fuse Access Panel Removal/Installation
NOTE: Take care not to scratch the dashboard or its related parts. Do not pry on the panel surface with any tools. Pull the fuse access panel (A) back by hand to release the ...