Honda Fit: Correct Vehicle Position

INFO button
► Setup ►Other ►Vehicle
Manually adjust the current position of the vehicle as displayed on the map screen if the position appears to be incorrect.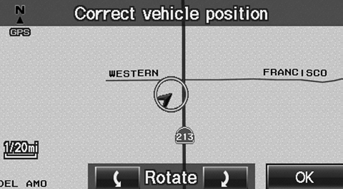 1. Put the vehicle in Park.
2. Select ADJUST under Current Vehicle Position.
3. Scroll the map to position the arrowhead at your correct position.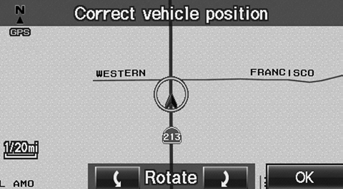 4. Select

or


to position the
arrowhead in the correct direction the vehicle is facing.
5. Select OK.
An apparent position error can occur where buildings, tunnels, and other objects block or reflect the GPS signals, forcing the system to use "dead reckoning" to determine your location and direction.
Using this function to adjust vehicle position is not recommended. When the system reacquires a GPS signal, it will automatically place the vehicle in the correct location.
If you continually have to adjust the vehicle position, you may have problems with the GPS reception or there may be database errors.
See also:
Registering a Voice Tag to a Speed Dial Entry
PHONE button ► Speed Dial 1 or Speed Dial 2 1. Select a speed dial entry. 2. Select Edit Speed Dial. 3. Select Voice Tag. 4. Follow the prompt to enter a voice tag. Voice tags allow ...
If the EPS System Indicator Comes On
■ Reasons for the indicator to come on • Comes on when there is a problem with EPS system. • If you depress the accelerator pedal repeatedly to increase the engine speed while the engin ...
Adjusting the Seats
WARNING Sitting too close to a front airbag can result in serious injury or death if the front airbags inflate. Always sit as far back from the front airbags as possible while maintaining cont ...