Honda Fit: Correct Vehicle Position

INFO button
► Setup ►Other ►Vehicle
Manually adjust the current position of the vehicle as displayed on the map screen if the position appears to be incorrect.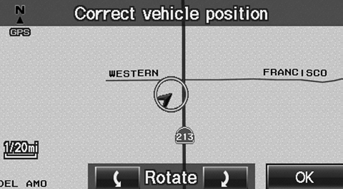 1. Put the vehicle in Park.
2. Select ADJUST under Current Vehicle Position.
3. Scroll the map to position the arrowhead at your correct position.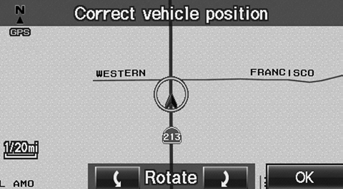 4. Select

or


to position the
arrowhead in the correct direction the vehicle is facing.
5. Select OK.
An apparent position error can occur where buildings, tunnels, and other objects block or reflect the GPS signals, forcing the system to use "dead reckoning" to determine your location and direction.
Using this function to adjust vehicle position is not recommended. When the system reacquires a GPS signal, it will automatically place the vehicle in the correct location.
If you continually have to adjust the vehicle position, you may have problems with the GPS reception or there may be database errors.
See also:
Front Individual Map Light Test/Replacement (With Navigation)
With navigation Turn the individual map light switch OFF. Carefully pry the lens (A) off with a small screwdriver. Individual Map Light: 8 ...
Tire Labeling
The tires that came on your vehicle have a number of markings. Those you should be aware of are described below. Tire Size Whenever tires are replaced, they should be replaced with tires of the ...
Receiver/Dryer Desiccant Replacement (With A/C)
NOTE: Install the receiver/dryer as quickly as possible to prevent the system from absorbing moisture from the air. Remove the A/C condenser. Remove the bolts from the A/C cond ...