Honda Fit: Correct Vehicle Position

INFO button
► Setup ►Other ►Vehicle
Manually adjust the current position of the vehicle as displayed on the map screen if the position appears to be incorrect.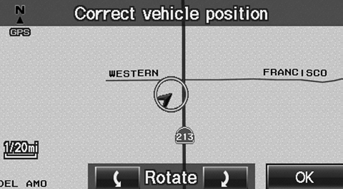 1. Put the vehicle in Park.
2. Select ADJUST under Current Vehicle Position.
3. Scroll the map to position the arrowhead at your correct position.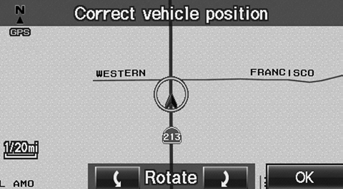 4. Select

or


to position the
arrowhead in the correct direction the vehicle is facing.
5. Select OK.
An apparent position error can occur where buildings, tunnels, and other objects block or reflect the GPS signals, forcing the system to use "dead reckoning" to determine your location and direction.
Using this function to adjust vehicle position is not recommended. When the system reacquires a GPS signal, it will automatically place the vehicle in the correct location.
If you continually have to adjust the vehicle position, you may have problems with the GPS reception or there may be database errors.
See also:
Before Driving
Before you begin driving your vehicle, you should know what gasoline to use and how to check the levels of important fluids. You also need to know how to properly store luggage or packages. The in ...
Radiator Replacement
Raise the vehicle on the lift. Drain the engine coolant. Disconnect the ECT sensor 2 connector (A), then remove the harness clamp (B). With A/C: Re ...
Shift Solenoid Valve Removal and Installation (A/T)
NOTE: Do not hold the solenoid valve connector to remove and install the solenoid valve. Be sure to hold the solenoid valve body. Remove the mounting bolts, then remove the solenoid valves by ...