Honda Fit: Edit Waypoint Search Area

INFO button
► Setup ►Other ►Routing & Guidance►Edit Waypoint Search Area "Edit"
Select the distance from your highlighted route line (on either side of your route) that the system will search for a waypoint.
You can specify a different search distance for freeways and surface streets.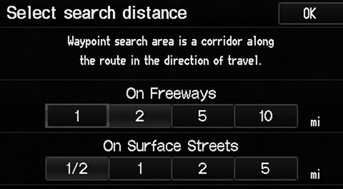 1. Select a search distance.
2. Select OK.
The following options are available:
• On Freeways: 1, 2, 5, or 10 miles can be set. Factory default is 2 miles.
• On Surface Street: 1/2, 1, 2, or 5 miles can be set. Factory default is 1/2 mile.
The search distance does not affect the search range used for the Find Nearest voice commands (e.g., say

"Find nearest gas
station").
See also:
Off-road Tracking
INFO button ► Setup ►Other ►Vehicle The navigation system can be set to display white off-road tracking dots ("breadcrumbs") on the map screen whenever you drive into an are ...
CKP Sensor Replacement
Raise the vehicle on a lift. NOTE: Make sure the vehicle is level, because engine oil will drip out when you remove the sensor. Loosen the bolt (A). Remove the bolt (B) and ...
Vehicle Storage
If you need to park your vehicle for an extended period (more than 1 month), there are several things you should do to prepare it for storage. Proper preparation helps prevent deterioration and mak ...