Honda Fit: Edit Avoid Area

INFO button
► Setup ►Other ►Routing & Guidance►Edit Avoid Area "Edit"
Specify up to five areas to avoid (e.g., road construction, closures), if possible, when the system calculates routes to your destination.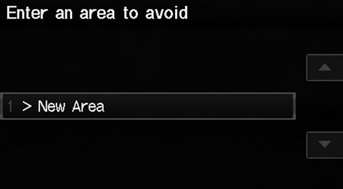 1. Select New Area or an existing area to edit.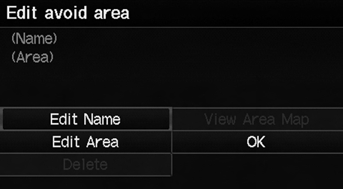 2. Select Edit Name to label the area to avoid.
3. Enter a name or title. Select OK.
4. Select Edit Area to define the area to avoid.
The following items are available (after an area is set): • View Area Map: Displays the selected avoid area on the map.
• Delete: Deletes the selected avoid area.
The avoid areas are shared with User 1 and User 2. For example, if User 1 specifies some avoid areas, User 2 can also use them for setting a route.
The maximum size of an "avoid area" is about 1 square mile.
If your selected area contains a freeway, you are asked "Do you want to avoid freeways?" Answering "No" allows you to use a route through an avoid area on a freeway without any pop-up messages.
You can select areas to avoid, however you cannot select roads or areas that you want the system to use for routing.
You can enter characters for the name until the input field is full.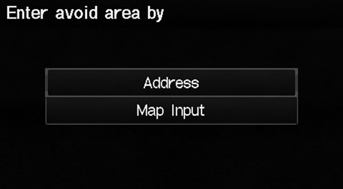 5. Select a method for specifying the area.
The following items are available: • Address: Specify the general area by entering an address.
• Map Input: Specify the general area by map input.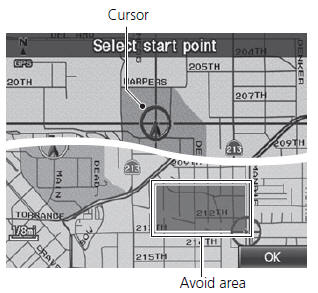 6. Scroll the map to position the cursor over your desired start point, adjusting the map scale as necessary. Press the ENTER button to mark the start point.
 To redo the area selection, press the CANCEL button.
7. Scroll the map to "draw" the area.
Press the ENTER button to mark the end point.
8. Select OK.
► The area you specify is displayed in the list of areas to avoid.
See also:
Center Console Removal/Installation
Special Tools Required KTC Trim Tool Set SOJATP2014 *Available through the Honda Tool and Equipment Program; call 888-424-6857 Click here for an interactive version of this procedure (M ...
Manual Transmission
The manual transmission is synchronized in all forward gears for smooth operation. It has a lockout so you cannot shift directly from fifth to reverse. When shifting up or down, make sure you pu ...
Flywheel Inspection
Remove the ring gear holder. Inspect the ring gear teeth for wear and damage. Inspect the clutch disc mating surface on the flywheel for wear, cracks, and burning. ...