Honda Fit: Remote Transmitter Care
Replacing the Battery
If the indicator does not come on when the button is pressed, replace the battery.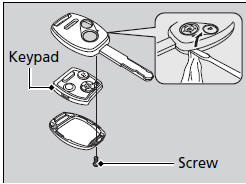 Battery type: CR1616
1. Unscrew the cover with a small Phillipshead screwdriver.
► Wrap the small flat-tip screwdriver with a cloth to prevent scratching the transmitter.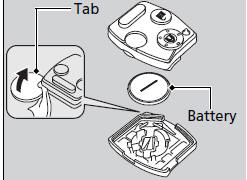 2. Open the keypad.
► Wrap a coin with a cloth to prevent scratching the transmitter.
3. Make sure to replace the battery with the correct polarity.
NOTICE
An improperly disposed of battery can damage the environment. Always confirm local regulations for battery disposal.
Replacement batteries are commercially available or at a dealer.
See also:
Countershaft Inspection (M/T)
Inspect the gear and bearing contact areas for wear and damage, then measure the countershaft at points A, B, and C. If any part of the countershaft is less than the service limit, replace ...
Honda Automobile Customer Service Contact Information
Honda Navi American Honda Motor Co., Inc. Honda Customer Service Mail Stop 500-2N-7E 1919 Torrance Blvd. Torrance, CA 90501-2746 Tel: (800) 999-1009 Fax: (310) 783-3273 ...
Rear Brake Shoe Replacement
caution Frequent inhalation of brake pad dust, regardless of material composition, could be hazardous to your health. Avoid breathing dust particles. ...