Honda Fit: Remote Transmitter Care
Replacing the Battery
If the indicator does not come on when the button is pressed, replace the battery.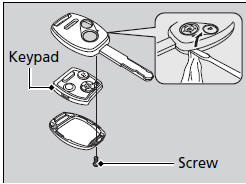 Battery type: CR1616
1. Unscrew the cover with a small Phillipshead screwdriver.
► Wrap the small flat-tip screwdriver with a cloth to prevent scratching the transmitter.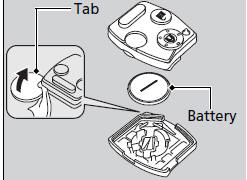 2. Open the keypad.
► Wrap a coin with a cloth to prevent scratching the transmitter.
3. Make sure to replace the battery with the correct polarity.
NOTICE
An improperly disposed of battery can damage the environment. Always confirm local regulations for battery disposal.
Replacement batteries are commercially available or at a dealer.
See also:
Resuming Your Trip
Stop your vehicle en route (e.g., to rest, stop for gas, etc.), and then continue on your route. If you did not complete your route, the Continue Trip screen is displayed when you restart you ...
Instrument Panel Removal/Installation
Special Tools Required KTC Trim Tool Set SOJATP2014 *Available through the Honda Tool and Equipment Program; call 888-424-6857 NOTE: Take care not to scratch the dashboard or its ...
Interior Care
Use a damp cloth with a mixture of mild detergent and warm water to remove dirt. Use a clean cloth to remove detergent residue. Do not spill liquids inside the vehicle. Electrical devices and ...