Honda Fit: Remote Transmitter Care
Replacing the Battery
If the indicator does not come on when the button is pressed, replace the battery.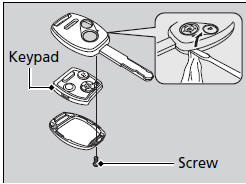 Battery type: CR1616
1. Unscrew the cover with a small Phillipshead screwdriver.
► Wrap the small flat-tip screwdriver with a cloth to prevent scratching the transmitter.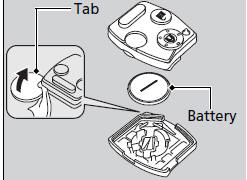 2. Open the keypad.
► Wrap a coin with a cloth to prevent scratching the transmitter.
3. Make sure to replace the battery with the correct polarity.
NOTICE
An improperly disposed of battery can damage the environment. Always confirm local regulations for battery disposal.
Replacement batteries are commercially available or at a dealer.
See also:
Cam Chain Removal
NOTE: Keep the cam chain away from magnetic fields. Turn the crankshaft pulley so its top dead center (TDC) mark (A) lines up with the pointer (B). Remove the cylinder he ...
Rectifier Test
Check for continuity in each direction, between the B terminal and P terminals, and between the E terminal and P terminals of each diode pair. All diodes should have continuity in only one ...
Features
Audio System For navigation system operation See Navigation System Manual ...