Honda Fit: Remote Transmitter Care
Replacing the Battery
If the indicator does not come on when the button is pressed, replace the battery.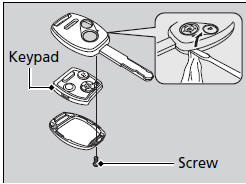 Battery type: CR1616
1. Unscrew the cover with a small Phillipshead screwdriver.
► Wrap the small flat-tip screwdriver with a cloth to prevent scratching the transmitter.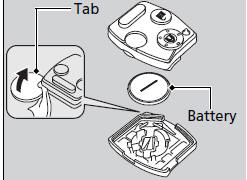 2. Open the keypad.
► Wrap a coin with a cloth to prevent scratching the transmitter.
3. Make sure to replace the battery with the correct polarity.
NOTICE
An improperly disposed of battery can damage the environment. Always confirm local regulations for battery disposal.
Replacement batteries are commercially available or at a dealer.
See also:
Maintenance
This section explains why it is important to keep your vehicle well maintained and how to follow basic maintenance safety precautions. This section also includes instructions on how to read the mai ...
FTP Sensor Replacement
Remove the EVAP canister. Disconnect the FTP sensor connector (A). Disconnect the hose (B), remove the retainer (C), and remove the FTP sensor (D). Ins ...
Online Reference Owner's Manual
This owner's manual should be considered a permanent part of the vehicle and should remain with the vehicle when it is sold. This owner's manual covers all models of your vehicle. You may find ...