Honda Fit: Language

INFO button
► Setup ►Other ►Language
Set the system language used on all screens. You can choose from three languages: English, Français (French), Español (Spanish).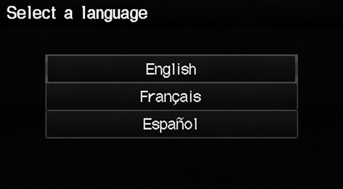 Select the system language.
Voice confirmation of cities and streets only occurs when English is the system language.
When Français or Español is selected, some messages continue to be displayed in English.
See also:
Engine Coolant
Specified coolant: Honda Long Life Antifreeze/Coolant Type 2 This coolant is premixed with 50% antifreeze and 50% water. Do not add any straight antifreeze or water. We recommend you check the en ...
PCV Valve Inspection
Remove the harness holder (A). Check the PCV valve (A), the hoses (B), the pipe (C), and the connections for leaks or restrictions. At idle, make sure there is ...
Installation (Part -1)
Before installing the steering gearbox, make sure that no grease is on the mating surface of the steering gearbox and the front subframe. To prevent the gearbox mounting bolts from looseni ...