Honda Fit: Changing the Front Wiper Blade Rubber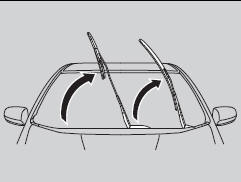 1. Lift the driver side wiper arm first, then the passenger side.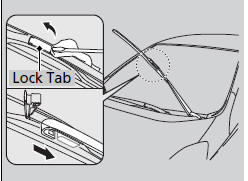 2. Place a cloth on the edge of the lock tab.
Push the lock tab up with a flat-tip screwdriver.
3. Slide the blade from the wiper arm
NOTICE
Avoid dropping the wiper arm; it may damage the windshield.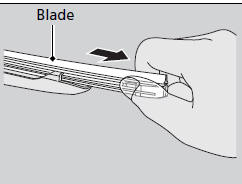 4. Slide the wiper blade out from its holder by pulling the tabbed end out.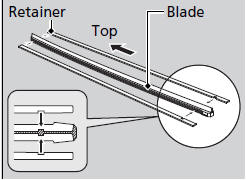 5. Remove the retainers from the rubber blade that has been removed, and mount to a new rubber blade.
► Correctly align the rubber protrusion and the retainer grooves.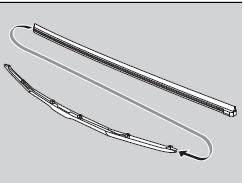 6. Slide the new wiper blade onto the holder from the bottom end.
► The tab on the holder should fit in the indent of the wiper blade.
7. Slide the wiper blade onto the wiper arm, then push down the lock tab.
8. Lower the passenger side wiper arm first, then the driver side.
See also:
A FewWordsAbout Safety
Your safety, and the safety of others, is very important. And operating this vehicle safely is an important responsibility. To help you make informed decisions about safety, we have provided operat ...
Selecting a Destination on the Map
Select a new destination when en route by selecting a location on the map. 1. Scroll the map to position the cursor over your desired destination, adjusting the map scale as necessary. Press the ...
M/T Differential Backlash Inspection (M/T)
Place the differential assembly on V-blocks (A), and install the right driveshaft (B) and the left driveshaft (C). Measure the backlash of both pinion gears (D) with a dial in ...