Honda Fit: Refilling Window Washer Fluid
Models without washer level sensor
Check the amount of window washer fluid. Look for 1/2 mark on the reservoir.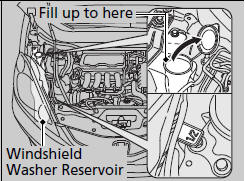 If the level is low, fill the washer reservoir.
Models with washer level senso
If the washer fluid is low, the indicator appears on the instrument panel. Pour the washer fluid carefully. Do not overflow the reservoir.
NOTICE
Do not use engine antifreeze or a vinegar/water solution in the windshield washer reservoir.
Antifreeze can damage your vehicle's paint. A vinegar/water solution can damage the windshield washer pump.
See also:
Shaft Assembly and Housing Installation (A/T)
Install the differential assembly in the torque converter housing. Install the baffle plate. Assemble the mainshaft, the countershaft, and the secondary shaft. NO ...
Driveshaft Installatio
NOTE: Before starting installation, make sure the mating surfaces of the joint and the splined section are clean. Apply about 5 g (0.18 oz) moly 60 paste (P/N 08734-0001) to the contact ar ...
Rear Door Pad Replacement
'11-13 models NOTE: Put on gloves to protect your hands. Take care not to scratch the door. Remove the door panel. Disconnect the power door lock actuato ...