Honda Fit: Refilling Window Washer Fluid
Models without washer level sensor
Check the amount of window washer fluid. Look for 1/2 mark on the reservoir.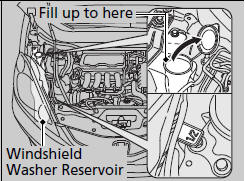 If the level is low, fill the washer reservoir.
Models with washer level senso
If the washer fluid is low, the indicator appears on the instrument panel. Pour the washer fluid carefully. Do not overflow the reservoir.
NOTICE
Do not use engine antifreeze or a vinegar/water solution in the windshield washer reservoir.
Antifreeze can damage your vehicle's paint. A vinegar/water solution can damage the windshield washer pump.
See also:
Fuses
The vehicle's fuses are contained in three fuse boxes. The interior fuse box is behind the driver's coin tray. To access it, remove the tray by turning the dial counterclockwise then pulling ...
Countershaft Inspection (M/T)
Inspect the gear and bearing contact areas for wear and damage, then measure the countershaft at points A, B, and C. If any part of the countershaft is less than the service limit, replace ...
Front Individual Map Light Test/Replacement (With Navigation)
With navigation Turn the individual map light switch OFF. Carefully pry the lens (A) off with a small screwdriver. Individual Map Light: 8 ...