Honda Fit: TPMS (Tire Pressure Monitoring System)
U.S. models only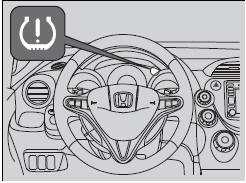 Monitors the tire pressure while you are driving. If your vehicle's tire pressure becomes significantly low, the low tire pressure indicator comes on.
Conditions such as low ambient temperature and altitude change directly affect tire pressure and can trigger the low tire pressure indicator to come on.
Tire pressure checked and inflated in: • Warm weather can become under-inflated in colder weather.
• Cold weather can become over-inflated in warmer weather.
The low tire pressure indicator will not come on as a result of over inflation.
See also:
Driveshaft Installatio
NOTE: Before starting installation, make sure the mating surfaces of the joint and the splined section are clean. Apply about 5 g (0.18 oz) moly 60 paste (P/N 08734-0001) to the contact ar ...
Changing Your Route
DEST button (when en route) This section describes how to alter your route, add an interim "waypoint" (pit stop), choose a different destination, cancel your current destination, and continue ...
Pilot Bearing Replacement
Remove the crankshaft pilot bearing (A) using the remover weight (B), and the 15 mm bearing remover shaft set (C). Install a new pilot bearing (A) into the crankshaft using th ...