Honda Fit: TPMS (Tire Pressure Monitoring System)
U.S. models only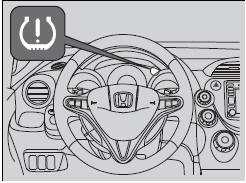 Monitors the tire pressure while you are driving. If your vehicle's tire pressure becomes significantly low, the low tire pressure indicator comes on.
Conditions such as low ambient temperature and altitude change directly affect tire pressure and can trigger the low tire pressure indicator to come on.
Tire pressure checked and inflated in: • Warm weather can become under-inflated in colder weather.
• Cold weather can become over-inflated in warmer weather.
The low tire pressure indicator will not come on as a result of over inflation.
See also:
Lower Front Bumper Grille Replacement
Special Tools Required KTC Trim Tool Set SOJATP2014 *Available through the Honda Tool and Equipment Program; call 888-424-6857 With Front Fog Lights NOTE: Take care not to scratch ...
Tire Pressure Monitoring System (TPMS) - Required Federal Explanation
U.S. models Each tire, including the spare (if provided), should be checked monthly when cold and inflated to the inflation pressure recommended by the vehicle manufacturer on the vehicle placard o ...
A/F Sensor Replacement
Special Tools Required O2 Sensor Wrench Snap-on S6176 or equivalent, commercially available Remove the cowl cover and the under-cowl panel. Disconnect the A/F se ...