Honda Fit: Setting Up Speed Dialing
PHONE button
► Speed Dial 1 or Speed Dial 2
Create speed dial entries with voice tags for easy calling.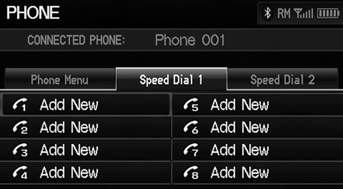 1. Select Add New.
2. Select a number entry option.
3. Select a number.> 4. Select Voice Tag.>  Select OK to store the speed dial without a voice tag.> 5. Follow the prompt to enter a voice tag.
The following options are available: • Phonebook
: Adds a number from the imported phonebook.
• History
: Adds a number from the last 20 numbers.
• Phone
Number
: Enters a number manually.
You can control the HFL system using voice commands.
Up to 15 speed dial entries can be stored per phone.
See also:
Camshaft Installation
Insert the camshaft (A). Apply new engine oil to the journals and the cam lobes. Install the CMP pulse plate. Install the CMP sensor. Install the r ...
Phone Setup
PHONE button ► Phone Setup Set HFL options and features. 1. Select an item. 2. Select OK. The following items are available: • Bluetooth Setup: Pairs your phone to the system. • B ...
Gearshift Mechanism Replacement (M/T)
NOTE: Make sure not to get any silicone grease on the terminal part of the connectors and switches, especially if you have silicone grease on your hands or gloves. ...