Honda Fit: Setting Up Speed Dialing
PHONE button
► Speed Dial 1 or Speed Dial 2
Create speed dial entries with voice tags for easy calling.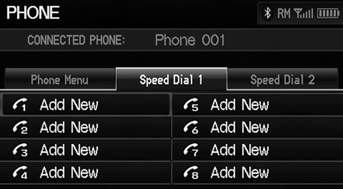 1. Select Add New.
2. Select a number entry option.
3. Select a number.> 4. Select Voice Tag.>  Select OK to store the speed dial without a voice tag.> 5. Follow the prompt to enter a voice tag.
The following options are available: • Phonebook
: Adds a number from the imported phonebook.
• History
: Adds a number from the last 20 numbers.
• Phone
Number
: Enters a number manually.
You can control the HFL system using voice commands.
Up to 15 speed dial entries can be stored per phone.
See also:
Radio Commands
Radio* Radio on Radio off Radio select FM1 Radio select FM2 Radio select AM Radio tune to # FM (#: frequency, e.g., 95.5) Radio tune to # AM (#: frequency, e.g., 1020) Radio seek up Radio s ...
Precautions for Opening/Closing the Tailgate
Always make sure individuals and objects are clear of the tailgate before opening or closing it. ■ Opening the tailgate • Open the tailgate all the way. ►If it is not fully opened, ...
Audio System Description
Overview The audio-navigation unit or audio unit acts as the processor for all audio functions. To select audio functions, use one of the following inputs: Audio-navigation unit or a ...