Honda Fit: Pairing a Phone
PHONE button
When no Bluetooth-compatible phone has ever been paired to the system, the following screen appears: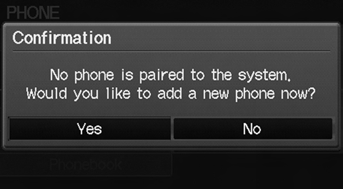 1. Select Yes.
2. Put your cell phone in "Discovery" or "Search" mode.
3. Select OK.
 The system begins to search for your phone.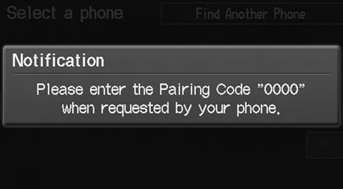 4. Select your phone in the list.
► Select Find Another Phone if your phone is not found.
► Refer to your phone manual for instructions on searching for a Bluetooth® device.
5. Enter the 4-digit pairing code on your phone when prompted to complete the pairing process.
Your Bluetooth-compatible phone must be paired to HFL before you can make and receive hands-free calls.
The maximum range between your phone and vehicle is about 30 feet (10 meters).
Phone Pairing Tips
• You cannot pair your phone while the vehicle is moving.

• Your phone must be in discovery or search mode when pairing the phone. Refer to your phone's manual.

• Up to six phones can be paired.
• Your phone's battery may drain faster when it is paired to HFL.
• If your phone is not ready for pairing or not found by the system within three minutes, the system will time out and returns to idle.
• The default pairing code "0000" is used unless you change the setting.
Pairing Code

You can change the pairing code setting.
Delete a Phone
You can delete the paired phone.
See also:
Obtaining Navigation Update Data
Honda is continually expanding the scope of the navigation system. Navigation system software upgrades may be made available periodically, usually in the fall of each year. To purchase an updat ...
Audio System Theft Protection
The audio system is disabled when it is disconnected from the power source, such as when the battery is disconnected or goes dead. ■ Entering the Audio Security Code ENTER CODE appears on ...
Floor Mats
If you remove a floor mat, make sure to re-anchor it when you put it back in your vehicle. A non-Honda floor mat may not fit your vehicle properly. This could prevent the proper operation of th ...