Honda Fit: Pairing from Phone Setup
PHONE button
► Phone Setup
Use the Phone setup screen to pair an additional Bluetooth-compatible phone if a phone has been previously paired to the system.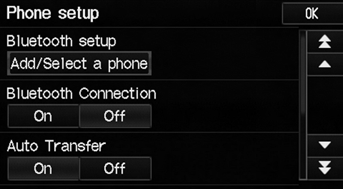 1. Select Add/Select a Phone under Bluetooth setup.
2. Select Search.
3. Put your cell phone in "Discovery" or "Search" mode.
4. Select OK.
► The system begins to search for your phone.
5. Select your phone in the list.
► Select Find Another Phone if your phone is not found.
► Refer to your phone manual for instructions on searching for a Bluetooth® device.
6. Enter the 4-digit pairing code on your phone when prompted to complete the pairing process.
You can control the HFL system using voice commands.
If a prompt appears asking to connect to a phone, select No and proceed with step 1.
See also:
Taking Care of the Unexpected
This section covers the more common problems that motorists experience with their vehicles. It gives you information about how to safely evaluate the problem and what to do to correct it. If the p ...
Setting Up Speed Dialing
PHONE button ► Speed Dial 1 or Speed Dial 2 Create speed dial entries with voice tags for easy calling. 1. Select Add New. 2. Select a number entry option. 3. Select a number.> 4. ...
Transmission End Cover Park Lever Stop Inspection and Adjustment (A/T)
Set the park lever in the P position. Measure the center-to-center distance (A) between the park pawl shaft (B) and the park lever roller pin (C). Sta ...