Honda Fit: Playing a CD
Your audio system supports audio CDs, CD-Rs, and CD-RWs in either MP3 or WMA format. With the CD loaded, press the CD button.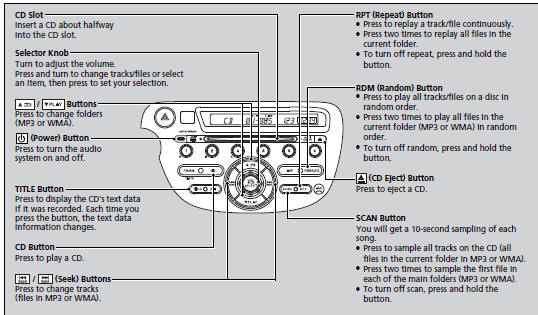 ■How to Select a File from a Folder with the Selector Knob (MP3/WMA)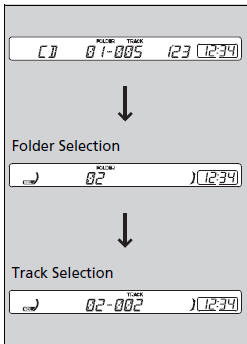 1. Press
to switch the display
to a folder list.
2. Rotate

to select a folder.

3. Press

to change the display to a
list of files in that folder.
4. Rotate

to select a file, then
press

.
NOTICE
Do not use CDs with adhesive labels. The label can cause the CD to jam in the unit.
WMA files protected by digital rights management (DRM) cannot be played.
The audio system displays UNSUPPORTED, then skips to the next file.
Text data appears on the display under the following circumstances:
• When you select a new folder, file, or track.
• When you change the audio mode to CD.
• When you insert a CD.
The display shows up to 31 characters of text data.
Press and hold the TITLE button to see additional characters.

indicates that the text
data continues.
The display goes back to the previous screen if you press and hold the button again.
If you eject the CD but do not remove it from the slot, the system reloads the CD automatically after several seconds.
See also:
Dashboard/Steering Hanger Beam Disassembly/Reassembly (Page-1)
Special Tools Required KTC Trim Tool Set SOJATP2014 *Available through the Honda Tool and Equipment Program; call 888-424-6857 NOTE: Put on gloves to protect your hands. ...
Automatic Transmission
■Creeping The engine may run at a higher idle speed and creeping increases: • Immediately after the engine starts. • When the heating and cooling system is in use. Keep the brake pedal f ...
Manual Transmission Removal (M/T)
Special Tools Required Universal Lifting Eyelet 07AAK-SNAA120 1.8 Support Bolt 07AAK-SNAA500 Engine Support Hanger, A and Reds AAR-T1256 *: Reds engine support hanger AAR-T1256 is available th ...