Honda Fit: Fog Light Bulbs
When replacing, use the following bulbs.
Fog Light: 55 W (H11)
1. Pry on the edge of the cover using a flat-tip screwdriver to remove the cover.
► Wrap the flat-tip screwdriver with a cloth to prevent scratches.
NOTICE
Halogen bulbs get very hot when lit. Oil, perspiration, or a scratch on the glass can cause the bulb to overheat and shatter.
The fog lights are halogen bulbs.
When replacing a bulb, handle it by its plastic case, and protect the glass from contact with your skin or hard objects. If you touch the glass, clean it with denatured alcohol and a clean cloth.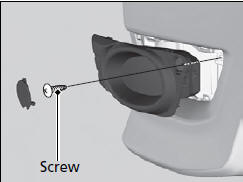 2. Remove the screw using a Phillips-head screwdriver and carefully pull the fog light assembly out of the bumper.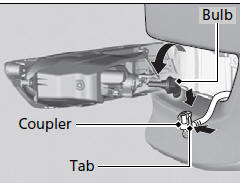 3. Remove the coupler.
► It can be removed by pushing the tab.> 4. Rotate the old bulb to the left to remove.> 5. Insert a new bulb into the fog light assembly and turn it to the right.> 6. Insert the coupler into the connector of the bulb.
See also:
Torque Converter Housing Countershaft Bearing Replacement (A/T)
Special Tools Required Adjustable Bearing Puller, 25пјЌ40 mm 07736-A01000B Driver Handle, 15 x 135L 07749-0010000 Oil Seal Driver Attachment, 58 mm 07JAD-PH80101 Remove the countersh ...
Auxiliary Input Jack
Use the jack in the console compartment to connect standard audio devices. 1. Open the AUX cover. 2. Connect a standard audio device to the input jack using a 1/8 inch/3.5 mm stereo miniplug. & ...
Playing M/WMA/AAC Discs
AUDIO button (in DISC mode) ► Folder Change the folder on M/WMA/AAC discs that have tracks stored in a folder structure. 1. Select a folder. ► The system displa ...