Honda Fit: Find Nearest Place

MAP MENU (on map)
►Find Nearest…
Search for the nearest place/landmark on the map screen and set it as your destination.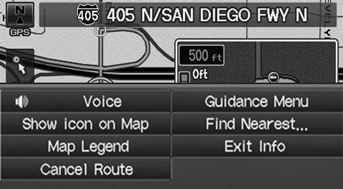 1. Select Find Nearest….
2. Select a category type.
3. Select a subcategory.
4. Select a place.
5. Select Set as Dest.
6. Select an item to set the place as a destination or add to the destination list.
► The system calculates the route.

"Find Nearest…" (on map screen)
The Find Nearest voice command is the fastest method of specifying a place/landmark as your destination. Many kinds of places can be found.
See also:
Obtaining Navigation Update Data
Honda is continually expanding the scope of the navigation system. Navigation system software upgrades may be made available periodically, usually in the fall of each year. To purchase an updat ...
Wipers and Washers
NOTICE Do not use the wipers when the windshield is dry. The windshield will get scratched, or the rubber blades will get damaged. NOTICE In cold weather, the blades may freeze to the windshie ...
Power Mirror Actuator Replacement
Removal Remove these items: Mirror holder Power mirror Record the power mirror connector terminals location and the wire harness colors. ...