Honda Fit: Find Nearest Place

MAP MENU (on map)
►Find Nearest…
Search for the nearest place/landmark on the map screen and set it as your destination.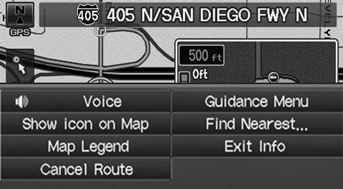 1. Select Find Nearest….
2. Select a category type.
3. Select a subcategory.
4. Select a place.
5. Select Set as Dest.
6. Select an item to set the place as a destination or add to the destination list.
► The system calculates the route.

"Find Nearest…" (on map screen)
The Find Nearest voice command is the fastest method of specifying a place/landmark as your destination. Many kinds of places can be found.
See also:
Mainshaft Assembly Clearance Inspection (M/T)
NOTE: If replacement is required, always replace the synchro sleeve and the synchro hub as a set. Support the bearing inner race with an appropriate size socket (A), and push down on the m ...
Ignition Switch
Manual transmission models WARNING Removing the key from the ignition switch while driving locks the steering. This can cause you to lose control of the vehicle. Remove the key from the ignit ...
Automatic Transmission Removal (A/T)
Special Tools Required Universal Lifting Eyelet 07AAK-SNAA120 1.8 Support Bolt 07AAK-SNAA500 Engine Support Hanger, A and Reds AAR-T1256 *: Reds engine support hanger AAR-T1256 is available th ...