Honda Fit: Find Nearest Place

MAP MENU (on map)
►Find Nearest…
Search for the nearest place/landmark on the map screen and set it as your destination.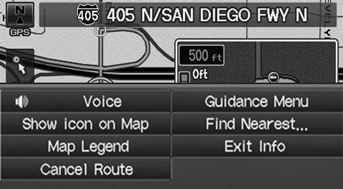 1. Select Find Nearest….
2. Select a category type.
3. Select a subcategory.
4. Select a place.
5. Select Set as Dest.
6. Select an item to set the place as a destination or add to the destination list.
► The system calculates the route.

"Find Nearest…" (on map screen)
The Find Nearest voice command is the fastest method of specifying a place/landmark as your destination. Many kinds of places can be found.
See also:
A/T Differential Carrier and Final Driven Gear Replacement (A/T)
Remove the final driven gear (A) from the differential carrier (B). The final driven gear bolts have left-hand threads. Install the final driven gear on the differential carri ...
EVAP Canister Replacement
Raise the vehicle on a lift. Except LX (A/T model): Remove the fuel tank cover (A) LX (A/T model): Remove the floor under cover assembly (A). Remo ...
Throttle Body Cleaning
caution Do not insert your fingers into the installed throttle body when you turn the ignition switch to ON (II) or while the ignition switch is in ON (II). If you d ...