Honda Fit: If Your Vehicle Gets Stuck
If your vehicle gets stuck in sand, mud, or snow, call a towing service to pull it out.
For very short distances, such as freeing the vehicle, you can use the detachable towing hook that mounts on the anchor in the front bumper.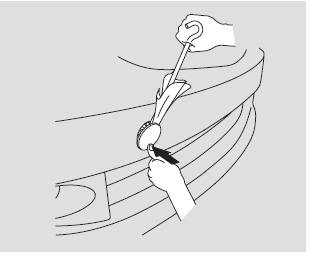 To use the towing hook: 1. Take the towing hook and the extension out of the tool kit in the cargo area.
2. Lift the upper part of the cover from the bumper by pushing the lower part with your finger. Put a cloth into the space behind the upper part of the cover. Using the extension, remove the cover fully.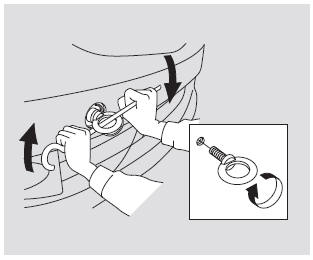 3. Screw the towing hook into the bolt hole behind the bumper, then tighten the hook securely with the extension.

To avoid damage to your vehicle, use the towing hook f or straight, f lat ground towing only. Do not tow at an angle. The tow hook should not be used to tow the vehicle onto a f lat bed. Do not use it as a tie down.
See also:
Wheels
Clean the wheels as you would the rest of the exterior. Wash them with the same solution, and rinse them thoroughly. If equipped Aluminum alloy wheels have a protective clear-coat that keeps the a ...
A/T Differential Carrier Bearing Preload Inspection (A/T)
Special Tools Required Driver Handle, 15 x 135L 07749-0010000 Bearing Driver Attachment, 72 x 75 mm 07746-0010600 Preload Inspection Tool 07HAJ-PK40201 NOTE: If the transmission housing, torq ...
Immobilizer System
The immobilizer system protects your vehicle from theft. If an improperly-coded key (or other device) is used, the engine's fuel system is disabled. When you turn the ignition switch to the ON (I ...