Honda Fit: If Your Vehicle Gets Stuck
If your vehicle gets stuck in sand, mud, or snow, call a towing service to pull it out.
For very short distances, such as freeing the vehicle, you can use the detachable towing hook that mounts on the anchor in the front bumper.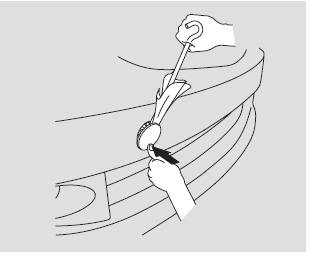 To use the towing hook: 1. Take the towing hook and the extension out of the tool kit in the cargo area.
2. Lift the upper part of the cover from the bumper by pushing the lower part with your finger. Put a cloth into the space behind the upper part of the cover. Using the extension, remove the cover fully.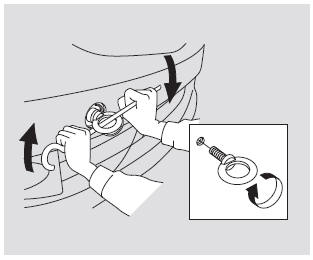 3. Screw the towing hook into the bolt hole behind the bumper, then tighten the hook securely with the extension.

To avoid damage to your vehicle, use the towing hook f or straight, f lat ground towing only. Do not tow at an angle. The tow hook should not be used to tow the vehicle onto a f lat bed. Do not use it as a tie down.
See also:
A/T Differential Backlash Inspection (A/T)
Install the driveshaft and intermediate shaft into the differential assembly, and place the axles on V-blocks (A). Measure the backlash of the pinion gears (B) wit ...
Adjusting the Sound
Press the (sound) button, and rotate to adjust the setting. Each time you press the button, a sound mode switches as follows. When the adjustment level reaches the center, you will ...
If the Brake System Indicator Comes On
■ Reasons for the indicator to come on • The brake fluid is low. • There is a malfunction in the brake system. ■ What to do when the indicator comes on while driving Press the ...