Honda Fit: Locking/Unlocking the Doors from the Inside
Using the Lock Tab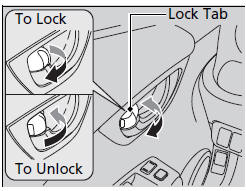 ■ Locking a door
Pull the lock tab rearward.
■ Unlocking a door
Push the lock tab forward.
Models with remote transmitter
When you lock the door using the lock tab on the driver's door, all of the other doors and tailgate lock at the same time.
When you unlock the door using the lock tab on the driver's door, only the driver's door will unlock.
Using the Master Door Lock Switch*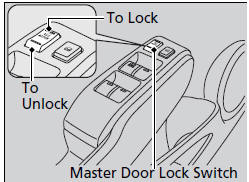 Press the master door lock switch in as shown to lock or unlock all doors and the tailgate.
When you lock/unlock the driver's door and tailgate using the master lock switch, all the other doors lock/ unlock at the same time.
See also:
Emissions Controls
The burning of gasoline in your vehicle's engine produces several byproducts. Some of these are carbon monoxide (CO), oxides of nitrogen (NOx), and hydrocarbons (HC). Gasoline evaporating from t ...
Servo Body Disassembly, Inspection, and Reassembly (A/T)
Clean all parts thoroughly in solvent, and dry them with compressed air. Blow out all passages. Inspect the servo body for scoring and damage. Check all valves for fre ...
Power Door Mirrors
You can adjust the door mirrors when the ignition switch is in ON . ■ Mirror position adjustment L/R selector switch: Select the left or right mirror. After adjusting the mirror, return th ...