Honda Fit: Driving Guidelines
On Sport model
Your vehicle is designed to give you optimum handling and performance on well-maintained roads. As part of this design, your vehicle has a minimum of ground clearance.
• Use caution if you ever drive your vehicle on very rough or rutted roads. You could damage the suspension and underbody by bottoming out. Going too fast over parking lot ''speed bumps'' can also cause damage.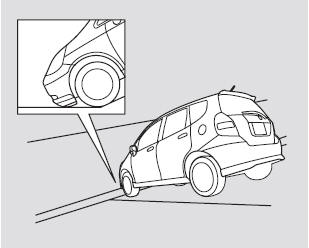 • Curbs and steep inclines could damage the front and rear bumpers. Low curbs that do not affect the average vehicle may be high enough to hit the bumper on your vehicle. The front or rear bumper may scrape when trying to drive onto an incline, such as a steep driveway or trailer ramps.
See also:
Adjusting the Seats
WARNING Sitting too close to a front airbag can result in serious injury or death if the front airbags inflate. Always sit as far back from the front airbags as possible while maintaining cont ...
Startup Confirmation Screen
The Startup Confirmation screen is displayed when initialization has successfully completed. It is displayed every time you start your vehicle. Select OK to continue. NOTE: "OK" cannot be ...
Vehicle Identification Number (VIN)
Your vehicle has a 17-digit vehicle identification number (VIN) used to register your vehicle for warranty purposes, and for licensing and insuring your vehicle. See the image below for the VIN ...