Honda Fit: Driving Guidelines
On Sport model
Your vehicle is designed to give you optimum handling and performance on well-maintained roads. As part of this design, your vehicle has a minimum of ground clearance.
• Use caution if you ever drive your vehicle on very rough or rutted roads. You could damage the suspension and underbody by bottoming out. Going too fast over parking lot ''speed bumps'' can also cause damage.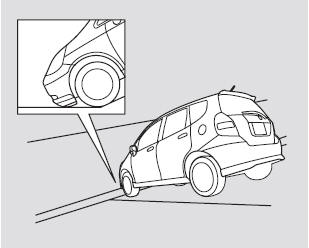 • Curbs and steep inclines could damage the front and rear bumpers. Low curbs that do not affect the average vehicle may be high enough to hit the bumper on your vehicle. The front or rear bumper may scrape when trying to drive onto an incline, such as a steep driveway or trailer ramps.
See also:
Adjusting the Steering Wheel
The steering wheel height and distance from your body can be adjusted so that you can comfortably grip the steering wheel in an appropriate driving posture. 1. Pull the steering wheel adjustment ...
Adding Waypoints
Add up to four waypoints (pit stops) along the route to your destination. Waypoints allow you to stop for gas or food, for example, and then continue on to your destination. Press the MAP/GUID ...
Special Tools Required
Mainshaft Holder 07GAB-PF50101 Remove the bolts securing the ATF inlet line (D) and ATF filter holder (E), the line bolt and sealing washers, and remove the ATF inlet line, ATF hose, ...