Honda Fit: Driving Guidelines
On Sport model
Your vehicle is designed to give you optimum handling and performance on well-maintained roads. As part of this design, your vehicle has a minimum of ground clearance.
• Use caution if you ever drive your vehicle on very rough or rutted roads. You could damage the suspension and underbody by bottoming out. Going too fast over parking lot ''speed bumps'' can also cause damage.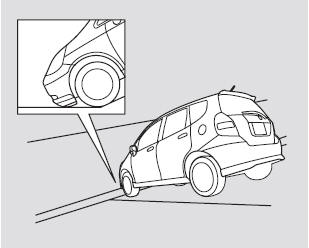 • Curbs and steep inclines could damage the front and rear bumpers. Low curbs that do not affect the average vehicle may be high enough to hit the bumper on your vehicle. The front or rear bumper may scrape when trying to drive onto an incline, such as a steep driveway or trailer ramps.
See also:
Storing Your Home Address
1 Press the INFO button. 2 Select Setup. 3 Select Personal Information. 4 Select Home Address 1. 5 Select Edit Name. 6 Enter a name and select OK. 7 Select Edit Address. 8 Select ...
Phone Setup
PHONE button ► Phone Setup Set HFL options and features. 1. Select an item. 2. Select OK. The following items are available: • Bluetooth Setup: Pairs your phone to the system. • B ...
Exploded View - Transmission Housing
NOTE: Place the clutch housing on two pieces of wood thick enough to keep the mainshaft from hitting the workbench. Remove the release bearing and the release fork. Remo ...