Honda Fit: Power Windows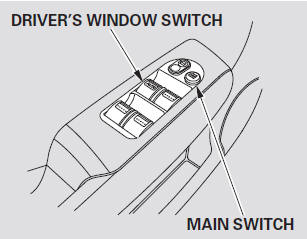 Turn the ignition switch to the ON (II) position to raise or lower any window. To open the window, push the switch down and hold it. Release the switch when you want to stop the window. To close the window, pull back on the switch and hold it.
AUTO -
To open the driver's window fully, push the window switch firmly down to the second detent, and release it. The window will automatically go down all the way. To stop the window, pull back on the window switch briefly.
To close the window, pull back on the switch and hold it.
When you push the MAIN switch in, the switch is off, and the passenger windows cannot be raised or lowered.
To cancel this feature, push on the switch again to get it to pop out.
Keep the MAIN switch off when you have children in the vehicle so they do not injure themselves by operating the windows unintentionally.
See also:
Steering Rack Guide Removal/Installation
NOTE: During removal/installation, do not allow dust, dirt, or other foreign materials to enter the steering gearbox. Remove the steering gearbox. Loosen the locknut (A), then ...
Viewing the Route
Map Screen After calculating the route to your destination, the route is displayed on the map screen. As you drive, the system tracks your position on the map in real time and provides guida ...
Cam Chain Removal
NOTE: Keep the cam chain away from magnetic fields. Turn the crankshaft pulley so its top dead center (TDC) mark (A) lines up with the pointer (B). Remove the cylinder he ...