Honda Fit: Map Coverage
The navigation system provides map coverage for the contiguous United States, Alaska, Hawaii, Canada, and Puerto Rico.
The map coverage consists of accurately mapped (verified) metropolitan areas and a less accurate (unverified) rural database.
Note that unverified areas are constantly being reviewed and converted to verified areas each year.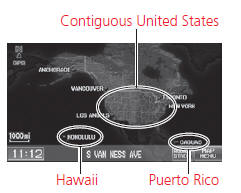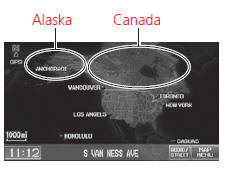 Map coverage update information is available from Honda Automobile Customer Service or online at www.hondanavi.com.
To find navigation system update information:
1. Visit www.hondanavi.com.
2. Enter your vehicle model and model year.
3. Click Map Coverage to display a list of verified coverage areas on the most recent update.
4. Click Map Coverage Details to display a PDF document with a full listing of all coverage areas.
► Adobe® Reader® is required for viewing and printing the Portable Document Format (PDF) documents.
To download the latest version of Adobe Reader, visit http:// get.adobe.com/reader/.
See also:
Inspection
Install the flange nut on the damper shaft end, and set the socket wrench and T-handle on the nut. Compress the damper assembly by hand, and check for smooth operation through ...
Home Addresses
INFO button ► Setup ►Personal Information►Home Address 1 or Home Address 2 Set two home addresses that you frequently use. 1. Edit the name, address, and phone number the s ...
Vehicle Storage
If you need to park your vehicle for an extended period (more than 1 month), there are several things you should do to prepare it for storage. Proper preparation helps prevent deterioration and mak ...