Honda Fit: Receiving a Call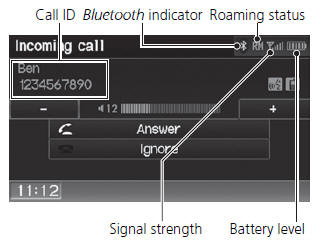 1. Press the

(Pick-Up) button
to answer a call and display the Calling screen.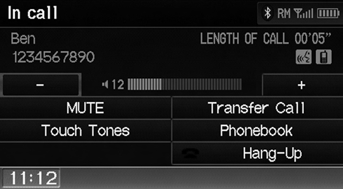 2. Press the

(Hang-Up) button
to terminate the call.
The following options are available during a call:
• MUTE
: Allows you to mute your voice.
• Touch
Tones (available on some phones):
Allows you to send numbers or names during a call. This is useful when you call an automated phone system.
• Transfer Call
: Allows you to transfer a call from HFL to your phone, or from your phone to HFL.
An incoming call notification appears on the navigation screen, and you hear an audible ring tone.
If your phone has Call Waiting, press the


button to put the original call on hold and answer the incoming call. To return to the original call, press the

button
again. If you want to hang up the original call and answer the new call, press the

button.
To change the volume level of HFL, use the audio system volume knob or the steering wheel volume controls.
Some phones may send battery, signal strength, and roaming status information to the screen.
Phonebook

Displays the cell phone's imported phonebook.
See also:
Installation
Install ECT sensor 1 (A) with a new O-ring (B). Install the water bypass hose (C). Remove all of the old liquid gasket from the water outlet mating surfaces, the bolts ...
General Commands
Display menu (if en route, displays the Route screen) Display navigation (if en route, displays the Route screen) Display map Display map guide (when en route, shows the next guidance point) Di ...
Calculating the Route
This section describes how to calculate your route. 1. Select Set as Dest. ► The system calculates and displays the route line on the map screen. The following items are available: • R ...