Honda Fit: Adjusting the Sound

AUDIO button (
►AUDIO MENU ) ► SOUND
Adjust the sound bass, treble, fader, and balance. In addition, you can set Speedsensitive Volume Compensation (SVC).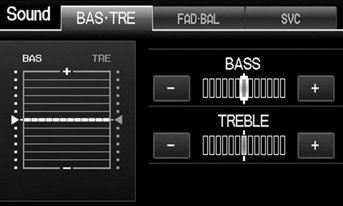 1. Select the tab to adjust the desired sound mode.
2. Adjust the desired level.
Fader adjusts the front-to-back strength, while balance adjusts the side-to-side strength.
The SVC has four modes: Off, Low, Mid, and High. SVC adjusts the volume level based on the vehicle speed. The faster you go, the audio volume increases. As you slow down, the audio volume decreases. If you feel the sound is too loud, choose Low, and vice versa.
See also:
Fluid Locations
...
Playing the AM/FM Radio
To Play the AM/FMRadio The ignition switch must be in the ACCESSORY (I) or ON (II) position. Turn the system on by pushing the PWR/VOL knob or the AM/FM button (AM or FM button except Sport mode ...
Changing Your Route
DEST button (when en route) This section describes how to alter your route, add an interim "waypoint" (pit stop), choose a different destination, cancel your current destination, and continue ...