Honda Fit: Adjusting the Sound

AUDIO button (
►AUDIO MENU ) ► SOUND
Adjust the sound bass, treble, fader, and balance. In addition, you can set Speedsensitive Volume Compensation (SVC).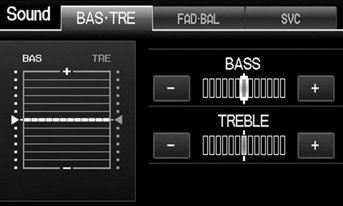 1. Select the tab to adjust the desired sound mode.
2. Adjust the desired level.
Fader adjusts the front-to-back strength, while balance adjusts the side-to-side strength.
The SVC has four modes: Off, Low, Mid, and High. SVC adjusts the volume level based on the vehicle speed. The faster you go, the audio volume increases. As you slow down, the audio volume decreases. If you feel the sound is too loud, choose Low, and vice versa.
See also:
Chassis
...
Rear Seat-Back Cover/Pad Replacement
Special Tools Required KTC Trim Tool Set SOJATP2014 *Available through the Honda Tool and Equipment Program; call 888-424-6857 NOTE: Use the appropriate tool from the KTC trim to ...
Steering Rack Guide Adjustment
Special Tools Required Locknut Wrench, 40 mm 07MAA-SL00100, 07916-SA50001, or 07AAA-TL2A100 Set the wheels in the straight ahead position. Loosen the rack guide screw locknut ...