Honda Fit: Map Legend

MAP MENU (on map)
►Map Legend
See an overview of the map lines, areas, routes, and navigation icons.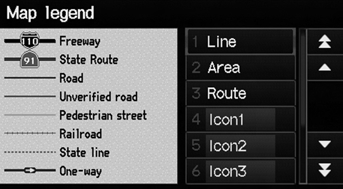 Select an item.
► The system displays the map legend.
A visual guide helps you see the map legend.
Map Scale and Functions
The functions that are available from the map screen depend on the map scale.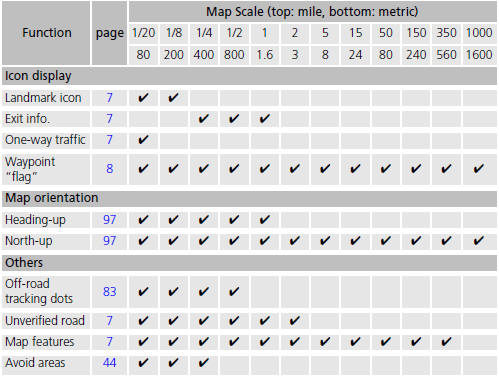 You can change the map scale using voice commands on the map screen (e.g., say


"Display 2 mile scale").
You can change between miles or kilometers.
Map Icons and Functions
Display or hide all icons on the map screen, with the exception of Honda/Acura Dealer icons which are always shown.
■ Landmark icon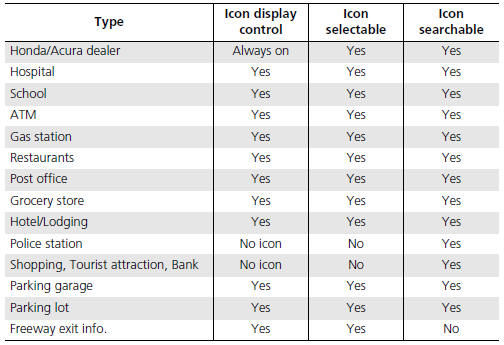 You can display or hide the icons using voice commands on the map screen (e.g., say


"Display hospital").
Some icons, like police stations, are not shown, but you can still locate the nearest one with the Find Nearest voice command (e.g., say

"Find
nearest police station").
Icon display control
Icons that can be displayed or hidden.
Icon selectable
Icons that can be selected as a destination using the joystick.
Icon searchable
Icons that can be searched using the

Find
Nearest voice command.
Map Orientation
Select the map orientation icon to change the map orientation.


"Display Heading-up" (from map
screen),


"Display North-up" (from map screen) The red arrow in the symbol always points North.
On scales greater than 1 mile, North-up mode is always used.
Current Location
Display and save your current location for future use as a destination. The address, latitude, longitude, and elevation of your current location are displayed.
■ To save your current location in the address book: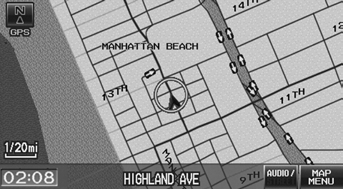 1. Select the vehicle icon on the map.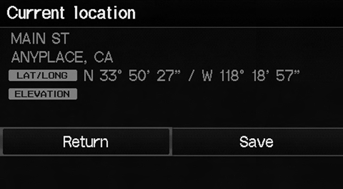 2. Select Save.
3. Edit the name, phone number, and category.
4. Select OK.

"Display Current Location" (on
map screen) You can also save the current location by saying

"Register the Current Location".
If you have PIN-protected your address book, enter your PIN when prompted. Select OK. PINs are optional.
The elevation is not displayed if the system is receiving insufficient GPS information. When elevation is displayed, it may differ with roadside elevation signs by ±100 feet or more.
Saving your current location does not change or cancel your current route.
See also:
Daytime Running Lights
The high beam headlights come on slightly dimmer than normal when the following conditions have been met: • The ignition switch is in ON . • The headlight switch is off, or in . • The park ...
Shift Fork Disassembly/Reassembly (M/T)
NOTE: Prior to reassembling, clean all the parts in solvent, dry them, and apply MTF to all contact surfaces. ...
Carrying Cargo
Your vehicle has several convenient storage areas: • Glove box • Front door pockets • Seat-back pocket • Center pocket • Cargo area side pocket • Cargo area, including the rear sea ...