Honda Fit: Intersection

DEST button
►DEST Menu 2►Intersection
Select the intersection of two streets as the destination. The state or province for your current location is displayed at the top of the screen (e.g., California).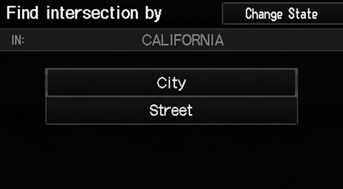 1. Select the intersection search method.
2. Set the route to your destination.
The following items are available:
• City: Selects the city where the intersection is located. You are prompted to enter the name of the two intersecting streets.
• Street: Selects the two intersecting streets. The city or cities that the streets are located in are displayed.
• Change State: Selects the state or province.
It is usually easier to select Street to find the streets first. The city or cities that the streets are in will be displayed. If you select City and your city is not listed, it may be part of a larger metropolitan area. Try entering the street first.
If the intersection is outside the state you are currently in, select Change State.
If there is more than one intersection, you are prompted to select the intersection. If the two streets that you have selected do not intersect, no intersection is entered.
See also:
Important Safety Precautions
You'll find many safety recommendations throughout this section, and throughout this manual. The recommendations on this page are the ones we consider to be the most important. Always Wear Your ...
Regulator Valve Body Disassembly, Inspection, and Reassembly (A/T)
Clean all parts thoroughly in solvent, and dry them with compressed air. Blow out all passages except the air check valve filter. Inspect the regulator valve body for scoring and ...
Audio Antenna
Your vehicle is equipped with a removable antenna at the rear of the roof. NOTICE Before using a "drive-through" car wash, remove the antenna by unscrewing it by hand. This prevents the ant ...