Honda Fit: Coordinate

DEST button
►DEST Menu 2►Coordinate
Specify a location using latitude and longitude map coordinates.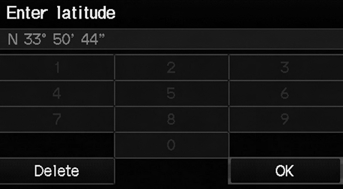 1. Enter the latitude. Select OK.
2. Enter the longitude. Select OK.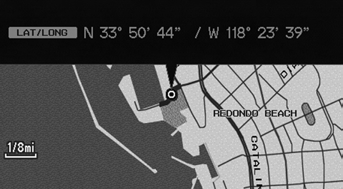 3. Scroll the map to position the cursor over your desired destination, adjusting the map scale as necessary. Press the ENTER button.
► If the address is not the desired location, scroll to another location and try again.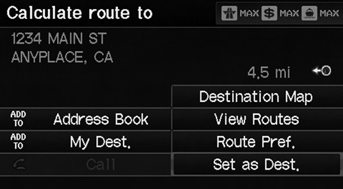 4. Press the ENTER button again to display the route calculation menu.
5. Select Set as Dest.
Latitude and longitude must be entered up to the seconds' value.
A yellow box (shown at scales above 1/4 mile) denotes the area that can be viewed when you press the ENTER button on the current map.
Information icons are displayed at scales from 1 mile to 1/4 mile. Place/landmark icons are displayed at 1/8 mile or less. Roads are displayed at 1/4 mile or less.
If you select multiple icons within the cursor radius, you are prompted to select one of the items from a list.
See also:
Charging the Battery
Disconnect both battery cables to prevent damaging your vehicle's electrical system. Always disconnect the negative (–) cable first, and reconnect it last. ...
A/T System Description - Clutches and Gears (A/T)
Clutches and GearsThe five-speed automatic transmission uses hydraulically-actuated clutches to engage or disengage the transmission gears. When hydraulic pressure is introduced into the clut ...
Power Windows
Turn the ignition switch to the ON (II) position to raise or lower any window. To open the window, push the switch down and hold it. Release the switch when you want to stop the window. To close ...